Enhance

the look and

value

of your home with the lasting strength of

Tigerwood decking.
Tigerwood is a visually striking, exotic hardwood from Central and South America. It varies in colour from reds and oranges to black and dark brown tones and derives its name from its unique tiger striping. As one of the most durable woods in the world, Tigerwood Hardwood Decking delivers a long lifespan to every project and requires remarkably low maintenance. POCO Building Supplies is proud to be Canada's exclusive dealer of TigerDeck® Tigerwood products – for all your outdoor needs. With a tight grain pattern, smooth texture and natural lustre, TigerDeck® Tigerwood is suitable for exterior wood applications such as Decking, Railing, Fencing and Siding.
PROJECT GALLERY
SUSTAINABLY FORESTED
Our partner, Tigerdeck® works with government agencies to ensure sustainable logging practices that keep the cycle of growth healthy. Unlike composite decking, TigerDeck® is fully recyclable—making it a smart choice for eco-conscious consumers. We responsibly source our Tigerwood from sustainable producers in South America. Every step in our hardwood supply chain—from harvest to the end consumer—meets rigorous criteria for social, economic, and environmental responsibility.
HAND SELECTED EXOTIC HARDWOOD
Not all Tigerwood is created equal. We hand select and carefully kiln dry our materials at the finest mills in South America, then process and grade them to North American standards to ensure impeccable stability and performance. All of our TigerDeck Tigerwood is graded 'B' & Better Clear heartwood. With a lifespan that's 2-3 times longer than typical North American softwood decking, TigerDeck® is built to last and proudly backed by an industry-leading, 25-year warranty.
CHARACTERISTICS & APPEARANCE
Measuring 2,160 on the Janka Hardness scale TigerDeck® is naturally strong and extremely resistant to harsh climates and does not require any preservative treatment against rot, decay, and insects. That means minimal splitting, splintering, cracking, or warping. Left to weather – Tigerwood's characteristic stripes will eventually become more uniform as the natural oils dry out and the wood ages to a handsome silver patina. To enhance and preserve the colour of new Tigerwood Decking, we recommend applying a single coat of Penofin Hardwood Formula – which is designed specifically for Hardwoods. Applying Oil like Penofin is recommended if you want the wood to 'pop' – and oiled Tigerwood most certainly provides the 'wow factor'. A good way to determine whether or not you prefer your Tigerwood deck to be oiled is to perform a 'wet test'. If you prefer the way your deck looks when it's wet, to when it's dry, you should probably apply an oil finish. This is also a good method for determining when your TigerDeck is ready for another coat.
TigerDeck Tigerwood Decking profiles
All TigerDeck® Tigerwood products are carefully kiln dried. Careful Kiln Drying 'sets' the resin in cell walls of many cells and pulls most of the free water out of the wood. In combination with the heavy oil content of Tigerwood, drying stabilizes the wood. Once carefully kiln-dried Tigerwood is very stable and does not shrink, expand and move much in service as a deck board. Commonly available deck board widths are nominally 4″, 6″ and 8″ with Railing components and custom profiles also available. We supply both solid-edge and pre-grooved Tigerwood Decking, which can be fastened with Starborn® Pro-Plug system, BlackTalon®or Deckwise® IpeClip Hidden Fasteners. Scroll down for more information about approved fastening methods.
economy decking
For the customer who wants a hardwood deck but is building on a budget, economy decking sacrifices nothing in quality, only thickness. Available in both 'Solid Edge' or 'Pre-Grooved' profiles in 8-20′ lengths
1 x 4 TigerDeck (actual size 0.72″ x 3.44″)
1 x 6 TigerDeck (actual size 0.72″ x 5.44″)
recommended decking
Deck planks that are 1″ thick are more stable and less likely to cup. Where possible, we will always recommend this using thickness if your budget allows. Available in both 'Solid Edge' or 'Pre-Grooved' profiles in 8-20′ lengths
5/4 x 4 TigerDeck (actual size 0.94″ x 3.44″)
5/4 x 6 TigerDeck (actual size 0.94″ x 5.44″)
FASCIA & RISER
5/4 x 8 TigerDeck (actual size 0.91″ x 7.25″)
5/4 x 12 TigerDeck (actual size 0.91″ x 11.25″)
railing components
2 x 2 TigerDeck (actual size 1.44″ x 1.44″)
2 x 4 TigerDeck (actual size 1.44″ x 3.44″)
2 x 6 TigerDeck (actual size 1.44″ x 5.44″)
4 x 4 TigerDeck (actual size 3.44″ x 3.44″)
Approved Fastening Methods
Complete the look of your new hardwood deck with one of these flawless hidden fastener methods.  We only supply manufacturer approved fastener methods such as Starborn® Pro-Plug system, BlackTalon®or Deckwise® IpeClip Hidden Fasteners for use with either solid-edge and pre-grooved Tigerwood Decking. Talk to one of our experts about which fastener method is right for you. We'll be happy to help you select the right product for your project, with valuable and honest advice on how to get the best possible performance from this exotic hardwood decking.
BLACK TALON UNIVERSAL CLIP
BlackTalon® is a unique, stainless steel, hidden deck fastening design, which increases construction efficiency, minimizes the need for repair and extends lifespan over decks with screw down or other fastening systems. Stainless Steel screws fasten through the clip into the joist—not through the edge of the deck board. The 'wings' of the clip apply even pressure to both sides and hold the board extremely tight to the joist. Memory inherent in the stainless steel, along with the innovative wing design allows the clip to flex with the joist system and wood movement. This flexibility and design is critical in maintaining continuous holding power and providing access to the screw to replace or tighten deck boards.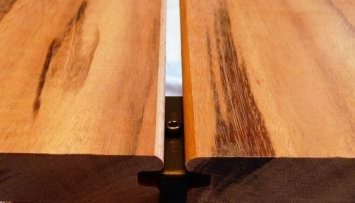 PACKAGING: 170 SS clips and screws per box with 2 torx head driver bits. Boxes will cover 100 sq ft with nominal 6″ deck board and 16″ joist spacing
TECHNICAL SPECIFICATIONS
301 full hard stainless steel alloy that allows clips to stay tight with deck board during expansion, contraction and substructure movement.
Proprietary leg design that holds the clip in place during installation while setting a consistent gap between boards.
Alternate leg design allows for installations not parallel to joist or for joist larger than 2" nominal.
Black oxide treated to reduce visibility from top of deck.
#8 x 1 7/8? 305 SS screws also black oxide treated.
BENEFITS
Universal design that will work with any profiled deck board.
Proven design with over 12 years of field experience.
Unique design that holds deck board tight while moving with deck board and not fatiguing over time.
Fast, efficient and easy to install.
Virtually eliminates all pre-drilling associated with hardwoods or composites.
Easy to access screw to tighten or replace a board.
IPE CLIP® EXTREME™ FASTENER SYSTEM
Unlike most all-metal hidden deck fasteners, which can react with wood causing staining, the Ipe Clip® is moulded of a malleable plastic polymer resin coating (further adding UV & chemical resistant qualities), allowing for the natural expansion/contraction of wood decking. This rigid, hardened plastic coated, stainless steel insert firmly holds decking to joists (up to 3X more hold-down strength than other edge-mount deck fasteners), eliminating decking screws from pulling through as the deck material expands. Designed for exotic hardwoods, the colour of the plastic resin also works to further camouflage & conceal our fasteners between the board gaps for a more sleek, upscale surface. A deck, patio or terrace that is installed with DeckWise® Hidden Deck Fasteners will make your new build safer, longer lasting, more durable, and better look with a flawless, smooth surface finish.
FEATURES & BENEFITS
Attachment of deck clip to material at a 45° angle into joists for maximum hold-down
Integrated gap spacer legs in 3/32" (Extreme), 5/32" (Extreme4) or 1/4" (ExtremeKD)
Stainless steel reinforcement for extreme hardness
Use with lengthwise pre-grooved slots, job site biscuit joiner or router
A Symmetrical wood edge profile allows for reversible boards
Standard edge profile of 5/32" (4.0mm) by 1/2" (13.0mm)
COMPLETE KITS INCLUDE: (175) IPE CLIP® Extreme™ Hidden Deck Fasteners (190) #8×2? Colormatch Black Stainless Steel Star Drive Screws (12) 3/8? Tapered Ipe plugs (1) 1/8? High Speed Drill Bit (1) Screw Gun Driver Bit (1) Instruction Sheet All Sizes In Stock (Black Only): Extreme (3/32″), Extreme4 (5/32″) and ExtremeKD (1/4″)
STARBORN PRO-PLUG SYSTEM FOR WOOD
FOR A WOODWORKERS FINISH CHOOSE THE PRO PLUG SYSTEM FROM STARBORN
PRO PLUG® SYSTEM for Wood combines the strength of top-down fastening with the high-end finish of face grain wood plugs. This comprehensive system allows deck builders to drill, screw, glue and plug all types of hardwoods in a fraction of the time required for traditional plug fastening methods. All of the Pro Plug System components have been carefully and precisely engineered to maximize performance and provide the best-finished result. The system features face grain wood plugs, stainless fasteners, a pre-drilling and counter-boring tool and a glue nozzle that applies glue to the sidewalls of the counter-bored hole. See opposite for available wood types.
AVAILABLE SIZES: 100pce, 350pce and 1050pce Kits
FEATURES & BENEFITS
1. FREE SPINNING STOP COLLAR WITH O-RING The stop collar spins free of the drill and counterbore assembly and is fitted with a rubber o-ring that prevents damage to the board surface. The hole is complete when the stop collar stops spinning. 2. COUNTERBORE The case hardened counterbore portion of the tool is designed to perfectly match the geometry of the System's specially designed fasteners and plugs. 3. DRILL BIT Drill bits feature Powerbolic fluting, which cuts through decking and flooring more than twice as fast as standard wood bits, even dense hardwoods. The Tool also comes packaged with a spare stub bit, designed for plug-only installations (with no fasteners). 4. FASTENERS Decking kits come with Grade 305 stainless steel, star drive, 8 x 2-1/2? plug fasteners. Flooring kits come with zinc plated, #2 square drive, 8 x 1-5/8? plug fasteners. 5. PRO PLUG GLUE NOZZLE The patented Pro Plug Glue Nozzle is designed to apply standard wood glue to the sidewalls of the hole created by the Pro Plug Tool for Wood, in order to achieve maximum holding power. The Nozzle attaches to any interior or exterior 4 or 8-ounce bottle of Titebond® wood glue and any 4, 8 or 16-ounce bottle of Elmer's® wood glue. 6. WOOD PLUGS Face grain wood plugs are available in many species. A unique chamfer and reduced flare angle offer easy insertion and an extremely tight fit with minimal to zero push-ups from weathering. Plugs are inserted completely, with no need for sawing or chiselling.
HOW-TO
INSTALLATION

VIDEO
Satisfied customer reviews
A simple email inquiry turned into a great experience. I had contacted several companies in search of Tigerwood decking and POCO Building Supplies was the only one able to meet my needs. My list of questions was answered quickly, but it was the details in the thoughtful, knowledgeable answers that impressed me most. I was given very good, very real advice on how I could stay within my budget without compromising the look or feel of my project. The price was where it needed to be to make me feel good about my purchase, and delivery was on time, as promised. What else can I say? I wish we had a POCO Building Supplies in Langley! – Craig Rawe (Langley, BC)
Find inspiration for your Hardwood Deck
Need Some Help?
Call

778-900-3881

to speak to one of our experts.