Create usable
living space

under your deck With this

easy to install

deck drainage system
Trex Rain Escape deck drainage and waterproofing provides an affordable solution for creating usable living space and dry storage underneath your deck. By creating a network of troughs and gutters along each joist run it, Trex Rain Escape keeps rain, spills and snow-melt from dripping through gapped deck boards, creating a dry patio area on the ground level below.
A versatile component system, Trex Rain Escape can even be installed on an existing deck frame by removing the decking planks, attaching the necessary Trex Rain Escape components and then re-attaching the decking.
ENJOY OUTDOOR LIVING ALL YEAR ROUND
With Trex Rain Escape, you can enjoy your Outdoor Living Spaces whatever the weather. This easy to install system keeps your floor joists dry, extending the lifespan of your treated lumber framing, meaning you don't have to worry about wood rot in years to come.
With Trex Rain Escape, you can even run wiring throughout the joist system to install features such as Trex Deck Lighting, ceiling fans or even a complete entertainment system concealed with a beautifully finished Cedar Soffit.
FEATURES & BENEFITS
Intelligent design
Proven reliability
Protects the structural integrity of your deck
Easy to install component system
Lower cost vs closest competitor product
Allows you to create an indoor environment outdoors underneath your deck. You can install ceiling fans, speakers, video electronics and furniture that will all be safe from the elements.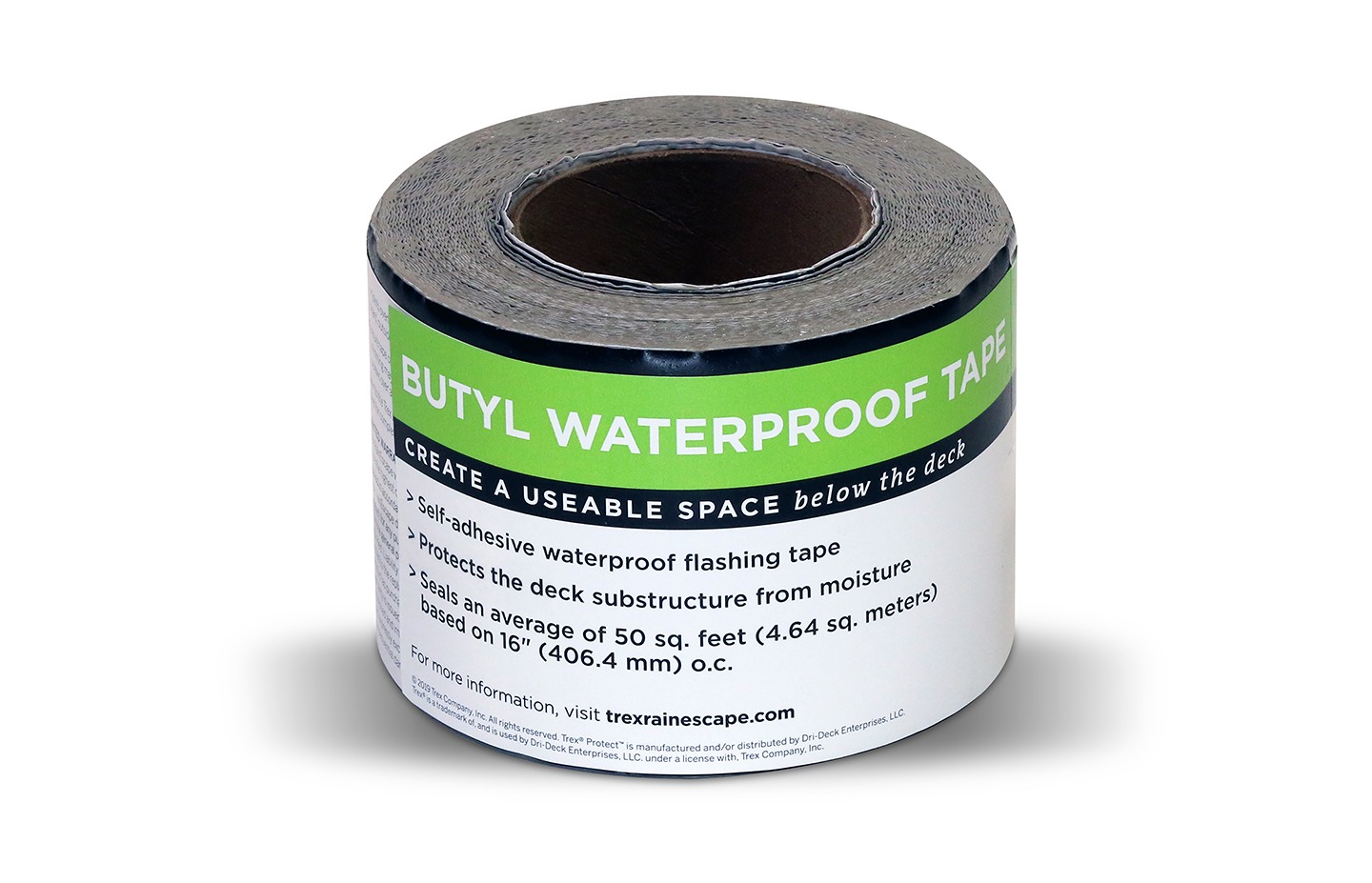 TREX® RAIN ESCAPE® Components
DownSpout
12′ Trough
16′ Trough
Butyl Caulk
Tape 4″ x 50″
Post Flashing
Wall Flashing
Browse more Trex Products
Frequently asked questions
Can I install the system myself?
Yes, with the easy to follow instructions that come with the Trex® RainEscape® system, a pair of scissors, utility knife, staple gun and caulking gun are all you need to install the system in one or two hours on most decks.
Can I install this over an existing deck?
Yes, but the existing deck boards must be removed while you install the Trex RainEscape System.
How do Trex RainEscape prices compare to other similar systems?
Although Trex RainEscape is a unique water drainage system it costs less than the nearest competitor.
How durable is the RainEscape System?
Made with rugged plastic and ultra violet inhibitors, the Trex RainEscape system is extremely durable.
How do you clean out the debris?
There should be very little if any debris that enters the system because it has to be small enough to fit through the decking. Small debris simply passes through the system with water. In the rare case that there is some build up, simply remove the piece of decking over the affected area and clean as needed.
Is the Trex RainEscape System affected by freezing temperatures?
If the system is installed correctly any water that is caught drains out through the downspout in a matter of seconds. With no water remaining in the system, freezing is not an issue.
What about snow build-up?
Snow will sit on the decking and, as it melts, will run through the system.
Are leaves a problem?
If leaves and debris accumulate in the troughs, a standard washing or a hard rain will clean out the system.
What if I can't get the tape to stick?
In areas, such as the perimeter, or surfaces of brick or stucco where the Trex RainEscape tape will not stick, use the Trex RainEscape caulking to adhere the material.
Can I splice the trough material?
NEVER splice trough material. See our instructions for spans that are longer than the trough material. Do not try to repair any damage with the Trex RainEscape tape.
What are the overall benefits of the Trex RainEscape System?
1) It protects the structural integrity of your deck.
2) It is easy to install.
3) The Trex RainEscape System allows you to create an indoor environment outdoors underneath your deck. You can install ceiling fans, speakers, video electronics and furniture that will all be safe from the elements.
If I have a question, is there a way to get more information?
Yes, first note that you can download step-by-step pdfs of instructions in English, French, and Spanish, if the instructions don't answer your question, call 1-800-BUY-TREX or email [email protected] for more information.
Need Some Help?
Call

778-900-3881

to speak to one of our experts.