Expand

your usable outdoor space with this

easy to install

deck drainage system
Ideal for second-story decks, TimberTech DrySpace is an under-deck drainage system that collects and channels moisture that drips through from the spaces between decking planks. TimberTech DrySpace can be easily attached to new or existing deck joists and comes in an off-white colour that brightens the area under your deck with a crisp, clean, modern aesthetic.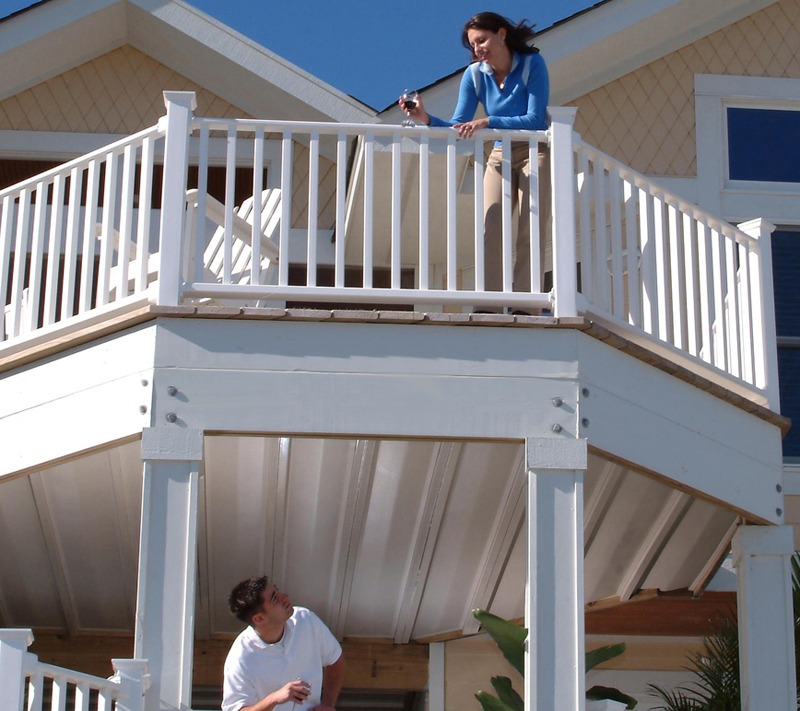 Enjoy Outdoor Living Whatever the Weather
With TimberTech Dryspace you can enjoy time outdoors with your family all year round. Made of solid extruded vinyl TimberTech DrySpace is engineered for maximum strength, durability and weather resistance. As with all TimberTech branded products, DrySpace is backed by a 25-year limited warranty.
FEATURES & BENEFITS
Easy to install component based system
Available in Kits or Bulk components
Easily apply DrySpace to existing or new deck structures
Provides finished soffit look without extra expense
Creates dry storage space under deck
Increases living space outside your home
25-year limited warranty for residential applications
TimberTech DrySpace Components
V Panel
Joist Cover
F Bracket
Kits available:
12" on-centre spans in 12' lengths only
16" on-centre spans in both 12' and 16' lengths
Also available in bulk
BROWSE MORE TIMBERTECH PRODUCTS
Learn how-to with this handy
FREQUENTLY ASKED QUESTIONS
Will chemical treatments or stains damage DrySpace?
No. Common, off-the-shelf stains and chemical wood cleaning treatments have no adverse effects on DrySpace.
Can I install a more decorative ceiling under DrySpace?
No. That would require penetrating the Joist Covers with nails or screws.
Can I install DrySpace by myself?
Yes. Complete, easy-to-follow instructions come with your DrySpace purchase – check out the full answer to read more recommendations for installing DrySpace.
Need Some Help?
Call

778-900-3881

to speak to one of our experts.