Convenient

Key Cutting From your

local family owned

hardware store
Need a new set of keys cut? At POCO Building Supplies we've got you covered. With the help of our friendly sales staff, you can take advantage of our convenient, in-store key cutting service to reproduce virtually any make and model of keys you might need. Whether you're looking for duplicates for an existing single key, or need multiple keys or large quantities cut, our key cutting service is fast, efficient and affordable. We carry a range of keys that cover the needs of most homes, business or motor vehicles.
We've got they key
Visit our Sales Counter for all your keying needs. We also supply Key-chains and a range of specialized Designer Keys in case you're looking for something that stands out – like a key that represents your favourite local hockey team. Go Canucks Go! Please note that some keys, such as mailbox keys, require written authorization to be duplicated. If your keys exhibit the words 'do not copy' please have this information ready, or accept that we will not be able to copy those keys.
We also supply Doors
While you're here having your keys cut, why not explore our range of Interior & Entry Doors. You can even meet with our expert Sales staff, who can assist you with choosing the right product. Best of all, we're more flexible with our pricing and more often than not provide a less expensive option than big box stores.
Need a new Lock or Lever?
We supply these quality brands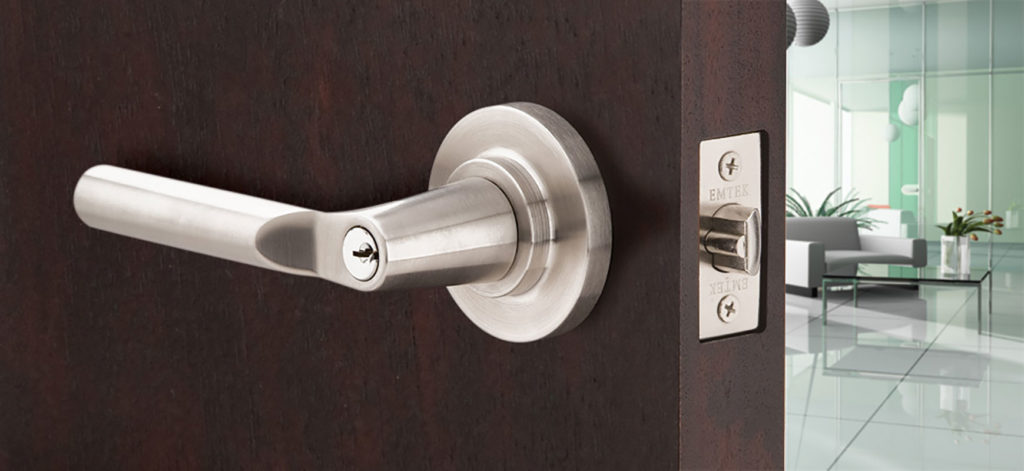 A little history of the mighty key
The earliest known lock and key device was discovered in the ruins of Nineveh, the capital of ancient Assyria. Locks such as this were later developed into the Egyptian wooden pin lock, which consisted of a bolt, door fixture, and key. When the key was inserted, pins within the fixture were lifted out drilled holes within the bolt, allowing it to move. When the key was removed, the pins fell part-way into the bolt, preventing movement. The warded lock was also present from antiquity and remains the most recognizable lock and key design in the Western world. The first all-metal locks appeared between the years 870 and 900, and are attributed to the English craftsmen. It is also said that the key was invented by Theodore of Samos in the 6th century BC. Affluent Romans often kept their valuables in secure boxes within their households, and wore the keys as rings on their fingers. The practice had two benefits: It kept the key handy at all times, while signaling that the wearer was wealthy and important enough to have money and jewelry worth securing. LEARN MORE
Need Some Help?
Call

778-900-3881

to speak to one of our experts.