Flooring
solutions

to suit your needs Friendly

advice

for fantastic results
At POCO Building Supplies – we pride ourselves on having the materials you need to build or renovate your home from the ground up. We work with our local Flooring suppliers to provide you with a range of solutions to suit your needs. With a range of products to suit any budget – our staff can help you choose which product is right for you and offer helpful advice about installation and how to get the best results.
Feel free to browse our handpicked flooring suppliers below to find the product that is best suited to your needs.
Choose from
our FLooring Suppliers
AFA - Forest Products Inc.
Price

: $

$$
style

: modern/rustic/contemporary

AFA Forest Products Inc. has evolved into a national distribution company that deals not only in commodities, but allied products as well. Reacting to the demand of the marketplace, AFA carefully selects products that will complement product lines currently being distributed. Our commitment to this range of allied products continues to support our goal to remain a leader in building materials distribution. Our national presence allows us to effectively cover markets all across Canada.

For pictures and styles, visit the vendor's website here.
GOODFELLOW
price

: $$

$
STYLE

: INDUSTRIAL/ELEGANT/Formal

Goodfellow has long been the leader in the processing and distribution of Exotic Woods, Douglas Fir, Construction Timber, Cedar, Pine and Hardwoods. We distribute a wide range of flooring, siding and decking products. Our line also includes pressure-treated lumber, glue-laminated wood beam structures, wood sidings, and a complete range of plywood and specialty wood panels. We also distribute a variety of wood and construction related products. Goodfellow provides custom orders prepared in our own remanufacturing plants, assuring rapid "Just in Time" deliveries throughout North America.

For pictures and styles, visit the vendor's website here.
Taiga Building Products
price

: $$

$
STYLE

: Warm/Inspiring/Fresh

Taiga has been resolved in bringing you the latest innovations in this product category for decades. We outsource from the leading manufacturers in the world. All in the hopes of bringing you the best so you can have the best at your fingertips. We also understand that leading edge technology and outstanding Commercial and Residential warranties mean little if you can't have the right kind of styles. So while we've been busy in product R&D our features are matched in current colour selections, textures and sizes. All this in an effort to make sure your customers see you in a superior light.

For pictures and styles, visit the vendor's website here.
XL Flooring
price

: $$$
STYLE

: LOCAL/VIBRANT/SLEEK

Ezfit is a premium flooring product designed with quality in mind. With one of the toughest wear-layers on the market today, Ezfit is built to last for generations. This tough wear-layer is the key to protecting the 8 gorgeous colors available in this product line. The distinctive backing on Ezfit planks guarantees an easy installation, additional walking comfort, and enhanced sound absorption.

As it has always been, our commitment to innovative design, unrivaled quality and 100% customer satisfaction remains steadfast as we continue to build upon our reputation as the leader in Luxury Vinyl Flooring throughout North America. 

For pictures and styles, visit the vendor's website here.
The first step to a warm, comfortable basement floor
Barricade Underlay System
There's no easier way to increase living space in your current home than by developing your basement, and starting with the right foundation is essential to a successful basement project.
Barricade Air Plus is a product that's ideal for basements or rooms built over a concrete slab. Barricade Air Plus consists of 2 ft. x 2 ft. panels just 7/8″ in height that interlock to create a smooth, solid surface, ready for the installation of virtually any finished floor covering. Barricade Air Plus features an improved moisture barrier, with built-in air gap technology to reduce moisture and keep your floor dry.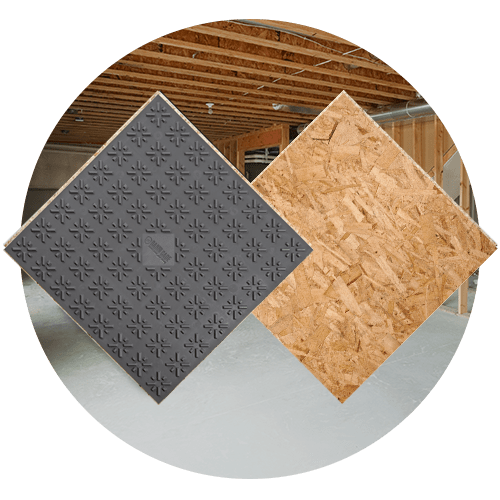 PRODUCT SPECIFICATIONS
23 ½" x 23 ½" x 7/8" : 120pcs per pallet : 8lbs per tile
features & benefits
R1.7 Thermal rating warms concrete floors by 3.2°C / 6° F
IIC 47 acoustical rating dampens sounds for a quieter floor
Air Gap Technology
Panels are easy to carry, cut and level
4000 lbs/sq ft compression strength will hold your piano or pool table
Accessories
Leveling Kit – inc. 24 Shims per box. We recommend one leveling kit for every 60 panels.
Calculating Tools
Use this simple formula to determine the number of panels and leveling kits required for your project.
ROOM SQ.FT / (divided by) 3.3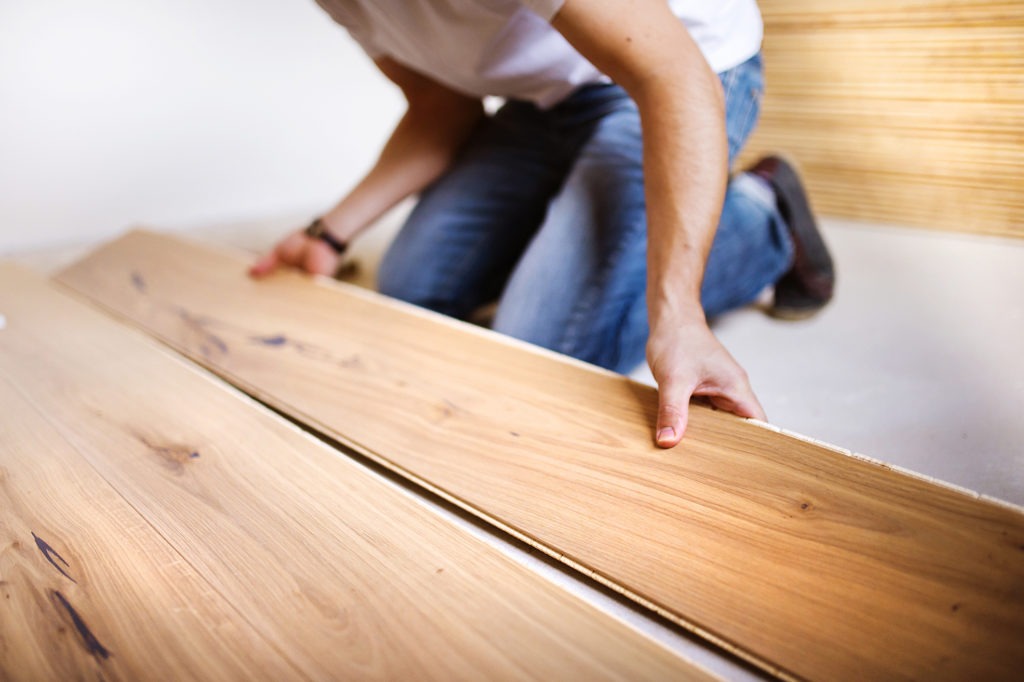 Jan 29, 2016
With Välinge's patented Click System you can install Vinyl Flooring 2x Faster than previous systems. The 2G and 5G profiles have...
Shop more Home Improvement Products
Need Some Help?
Call

778-900-3881

to speak to one of our experts.