Your
Dream Deck

Starts with Fiberon

Exceptional

outdoor living for every taste and budget.
Have more time to do what you love on a Fiberon composite deck. A high-performance, eco-friendly wood alternative, Fiberon decking offers the warmth and appeal of natural hardwoods without all the time and expense of maintenance. Choose from a wide range of colours and finishes to suit your style and budget.
Peace of mind comes from choosing the best
Free time is best spent with family and friends – not paint-brushes and scrapers. Fiberon takes pride in creating outdoor living products that offer lasting beauty, genuine value and easy maintenance. And because great outdoor living is nothing without the great outdoors, all Fiberon Decking incorporate eco-friendly materials and sustainable manufacturing processes. THE BRAND CONTRACTORS TRUST –  Bulletproof, easy to install, and no product warranty calls – these are just a few of the reasons why the pros prefer Fiberon. But don't take our word for it. Hear it from the decking experts themselves.
BORN & BUILT IN THE USA – Since 1997, Fiberon has been manufacturing and selling high-quality composite decking and railing products designed to make outdoor living easy. Everything is made in the United States, either in our home state of North Carolina or in our Idaho facility. INDUSTRY LEADING WARRANTY – Fiberon introduced the industry's first 25-year stain and fade warranty. We continue to offer industry-leading warranties, so you can buy with confidence. PROTECTING THE ENVIRONMENT – Fiberon products are made from recycled materials. That means we divert more than 60,000 tons of wood and plastics from landfills and incinerators each year. Our products are free of harmful chemicals, produced using sustainable processes, and contribute toward points in LEED and other green building rating systems.
Fiberon Decking Collections
fiberon promenade
evoke the feeling of luxurious living
Promenade decking offers the aesthetic of high-end, handcrafted wood decking, with the benefits of premium PVC. Grooved- and square-edge Promenade deck boards feature four-sided capping with streaking on the un-embossed underside. Some of the features included in this collection are:
Next-generation surface coating material provides superior weather resistance and durability.
Features a slip-resistant* surface texture, making it ideal for docks, marinas and other waterside applications.
A synthetic solid core construction provides protection from cracks, splinters and mold.
Approved for use in all Wildland Urban Interface (WUI) zones and meets additional fire performance requirements of San Diego County. ASTM E84 Class A.
promenade®
moonlit cove
weathered cliff
shaded cay
sandy pier

russet dune
natural reef
fiberon good life
Breakaway from wood without breaking the bank
Fiberon Good Life decking offers the low maintenance of a composite at a price that's closer to wood. By fluting the back-side of the plank, Good Life saves you money on materials used in manufacturing. Capped on three sides with a tough protective finish, Good Life decking resists staining and fading. With its solid composite construction, you can say goodbye to rotting, warping and splintering boards too. Choose from three solid colours that resemble traditional painted or stained decking. Good Life delivers good looks and great performance at a price that can't be beaten.
Square Edge Board Lengths: 20 ft Grooved Edge Board Lengths: 12 ft, 16 ft, 20 ft Fascia Boards: 0.75 in. x 11.25 in. x 12 ft
GOOD LIFE®
CABIN
A rich, solid brown reminiscent of a mountain cabin.
COTTAGE
A rich, solid grey, evoking thoughts of vacation cottages along the shore.
TUSCAN VILLA
Rich multi-chromatic streaking that reflects the beauty of tropical hardwoods without all the maintenance or expense.
BEACH HOUSE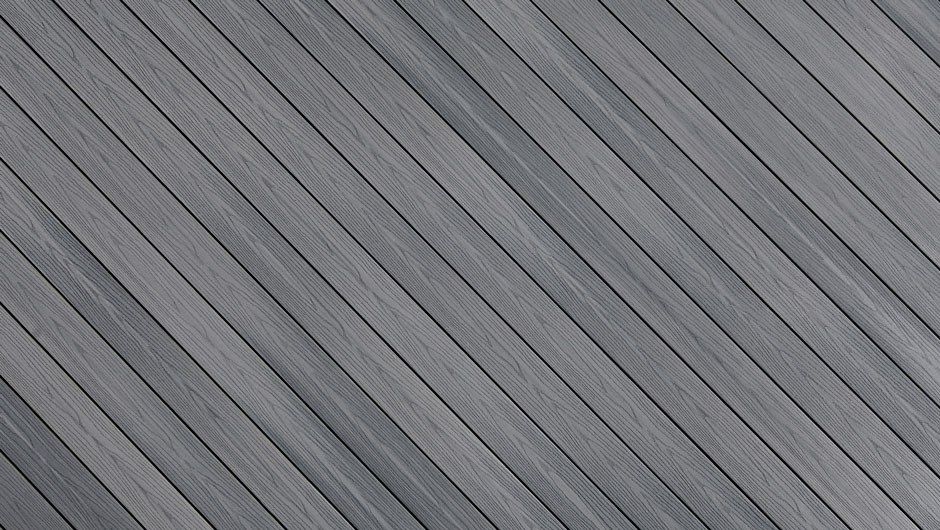 Light and dark shades of grey create an eye-catching palette reminiscent of coastal cottages and vacation getaways.
BUNGALOW
Warm brown tones from tan to chocolate meld into a stunning colour that's sure to become an instant favourite.
fiberon protect advantage
Style, durability, and easy maintenance – it's all here.
With its gorgeous colours and multi-tonal streaking, ProTect Advantage® Decking looks like premium hardwoods. The difference? These boards feature a three-sided PermaTech® cap layer for exceptional stain and fade resistance. The solid composite core resists splintering, cracking, and decay, while a 25-year warranty provides added peace of mind.
Square Edge Board Lengths: 20 ft Grooved Edge Board Lengths: 12 ft, 16 ft, 20 ft Fascia Boards: 0.75 in. x 11.25 in. x 12 ft
PROTECT ADVANTAGE®
WESTERN CEDAR
Features warm, subtle streaking so realistic you'll swear it's real cedar.
GREY BIRCH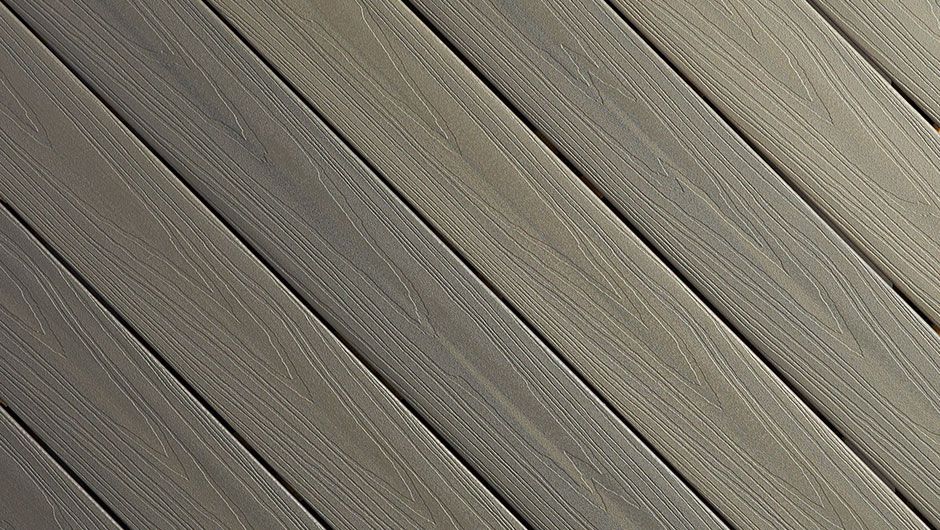 Offers the subtle streaking of weathered wood that melds beautifully with ocean waters and blue-grey skies.
CHESTNUT
Realistic, subtle streaking in deep brown wood tones looks rich with many house colours and styles.
Fiberon Sanctuary Decking
RUSTIC REFINED
Whether you're seeking solitude or social time, you can enjoy a beautiful easy-to-own outdoor living space with Sanctuary Decking. Plus, our innovative PermaTech cap layers means your deck will stay looking beautiful, year after year. Sanctuary Decking is the perfect blend of good looks, great performance, and easy maintenance.
Square Edge Board Lengths: 20 ft Grooved Edge Board Lengths: 12 ft, 16 ft, 20 ft Fascia Boards: 0.75 in. x 11.25 in. x 12 ft
sanctuary®
LATTE
A light tan-grey shade, reminiscent of misty summer mornings.
JATOBA
A rich, golden brown colour that complements any home or architecture.
EARL GREY
A mix of both deep and light gray tones.
Fiberon Paramount
Slip-resistant and stunning
With its super-resilient surface, slip-resistant patterns and gorgeous hardwood colours, Fiberon Paramount® PVC Decking is something extraordinary. It has a durable co-extruded surface that's bonded to the core to create a hard-wearing yet lightweight, easy-to-handle board. There's no organic content to promote mould growth, but there is exceptional resistance to moisture, dents and flames. Paramount PVC Decking meets the requirements of the CA SFM 12-7A-4, Part A and Part B, Class B Burning Brand, for use in all Wildland Urban Interface (WUI) zones. Wood decks simply can't compare.
Square Edge Boar Lengths: 20 ft Grooved Edge Board Lengths: 12 ft, 16 ft, 20 ft Fascia Boards: 0.75 in. x 11.25 in. x 12 ft
 PARAMOUNT®
BROWNSTONE
A beautiful combination of tan and brown colours that emulates real hardwoods.
FLAGSTONE
A standout mix of multiple grey tones.
SANDSTONE
A multi-chromatic, warm, brown-grey shade.
MINERAL
A solid, classic grey, suitable for traditional to contemporary tastes.
fiberon horizon
When only the best will do
From its dramatic colour tones and multiple wood grain patterns to the polish and protection of capping on all four sides, Fiberon Horizon® Decking is the composite deck board for those who won't compromise. Horizon is capped (or covered) on all four sides with PermaTech® surface material and never needs sanding, staining or sealing. Four-side capping increases durability, enhances stain and fade resistance, and ensures a polished appearance all around. Plus, Horizon boards feature two different wood grain patterns on the top and bottom for more design options and less material waste. All this, and at a price that is comparable to others' non-reversible boards.
Square Edge Board Lengths: 20 ft Grooved Edge Board Lengths: 12 ft, 16 ft, 20 ft Fascia Boards: 0.75 in. x 11.25 in. x 12 ft
HORIZON®
IPE
Offers a dramatic wood look evoking thoughts of warm, tropical locales.
ROSEWOOD
Emulates the beauty of its namesake, the stunningly exotic, tropical Rosewood.
TUDOR BROWN
The multi-dimensional wood tones are the perfect complement to ranch-style architecture, mountainside cabins and brick-sided homes.
CASTLE GREY
Reflects the beauty of ageing wood in layers of soft grey.
fiberon SYMMETRY
You've never seen decking quite like this.
Symmetry Decking offers the most natural look and feel available today in luxury composite decking, all balanced with time-tested durability and performance. The low-gloss formulation and unique micro-texturing process create a beautiful matte finish. Multi-tonal streaking echoes elegant hardwoods. And the colours? Inspired by natural elements and pigments, the palette is subdued yet striking. Equally impressive is the uncompromising performance and easy maintenance. Our four-sided PermaTech cap layer resists fading and staining, while the durable composite core means no splintering, cracking, insect infestation, or decay.
Square Edge Board Lengths: 20 ft Grooved Edge Board Lengths: 12 ft, 16 ft, 20 ft Fascia Boards: 0.75 in. x 11.25 in. x 12 ft
SYMMETRY®
WARM SIENNA
This warm, inviting shade is a golden brown with darker brown streaking for added dimension.
BURNT UMBER
This colour is a deep, dramatic brown with subtle red undertones.
CINNABAR
Reflecting the beauty of majestic redwoods, this rich red is at home in any backyard setting.
GRAPHITE

This rich, medium-grey colour adds cool sophistication to any space, coastal or city-side.
Picture this: Fiberon Design Tools
Fiberon's online tools can help you create the ultimate outdoor living area. Preview styles and colours with our Product Visualizer. Find inspiration in photo galleries and use the Deck Design Tool to configure your space from deck boards to deck chairs. Design
Whether out of sight or on the surface, Fiberon deck fasteners get the job done. Choose hidden fasteners for an elegant, upscale look or face fasteners with colour-matched plugs for a more traditional approach. Either way, you're sure to love the results.
FEATURES
Made from stainless steel with corrosion-resistant coating
More "teeth" and sharper curves grip deck boards for a stronger hold to the joist
Dual limiting tabs ensure consistent spacing and resist twisting often seen with single tab fasteners
Key hole design properly orients and seats the screw for optimal installation
Butt Joint Fasteners eliminate the need to double joist or use two fasteners at joints
Fasteners work with Fiberon Phantom Ballistic Screws (see details below)
PHANTOM GT LINE CLIP 
Available in boxes of 90 (50 sq. ft. of coverage) or buckets of 900 (500 sq. ft. of coverage) for 16″ on-centre installations
END CLIP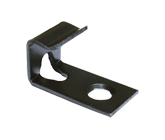 End Clip Fasteners eliminate surface fasteners on the beginning and end boards of the deck End Clip Fasteners are sold separately. Each bag includes 25 clips, 40 screws and driver bit for 25 l/f coverage, 12 in. on-center installations care & maintenance
Need Some Help?
Call

778-900-3881

to speak to one of our experts.