LOW MAINTENANCE
TREND
Each year we see an increase in customers opting for low maintenance decking materials for their outdoor living space. This trend sees more and more people opting for synthetic decking products over traditional building materials like Western Red Cedar and Pressure Treated Pine, which often require annual maintenance such as cleaning, sanding and refinishing.
BENEFITS
VS

WOOD

Exterior stains like Sikkens, Bohme, Penofin, Cabot and Olympic – when used under the right conditions and applied according to the manufacturers guideline – will perform exceptionally well on a traditional Cedar deck, but many customers now prefer to offset the higher cost of a Composite or PVC Deck – over the lifespan of the material. Synthetic Decking does not require the same year-on-year attention as natural wood – thus reducing repeated expenditure, like renting sanding equipment, purchasing stain and perhaps most importantly, the investment of your valuable time in doing the often back-breaking work.
COMPOSITE
OR

PVC?

In this blog post – we want to educate you on what the difference is between Composite and PVC decking in order to help you make the decision about which product is right for you. In reality, what we find is that in most cases, the defining factor in which Synthetic decking a customer chooses, is often not what it's made of, but the appearance – so once the decision has been made to use a synthetic, it's the colour, texture and grain pattern that is the deciding factor. Here's some information about the types of Synthetic Decking products available – and the features and benefits that will help you choose which one is right for you.
PVC Decking (2009 – present day)
Mention PVC decking to someone who's not seen the product installed on a deck and it would be easy to assume that it would look – plastic. In reality, this is actually not the case and companies like AZEK have spent a lot of money developing products that mimic or resemble the look of natural fibre. Indeed with the demand for Hardwood decking products like Ipe, Tigerwood and Batu on the increase, many synthetic decking manufacturers are using hardwood colours and grain patterns to influence their own range of colours. AZEK's new for 2015 'Vintage Collection' is a great example of how far PVC decking has come and how well the product can resemble the colour and texture of real wood – without the maintenance.
PVC Decking answers the desire for low maintenance decking, contains no wood fibre, and offers the broadest colour assortment and natural wood grains available. AZEK Capped PVC is ranked #1 in quality and has a crisp, unparalleled aesthetic that can't be found in other decking materials. It is available in a variety of price points and can be considered across most budget ranges – especially factoring in the higher cost of ownership over 20 years that you find with other alternative materials. AZEK Capped PVC will not rot, crack, warp or splinter and does not require annual sanding, staining or sealing, giving you peace of mind, and more time to show off your outdoor masterpiece.
early Composite Decking (1995 – 2008)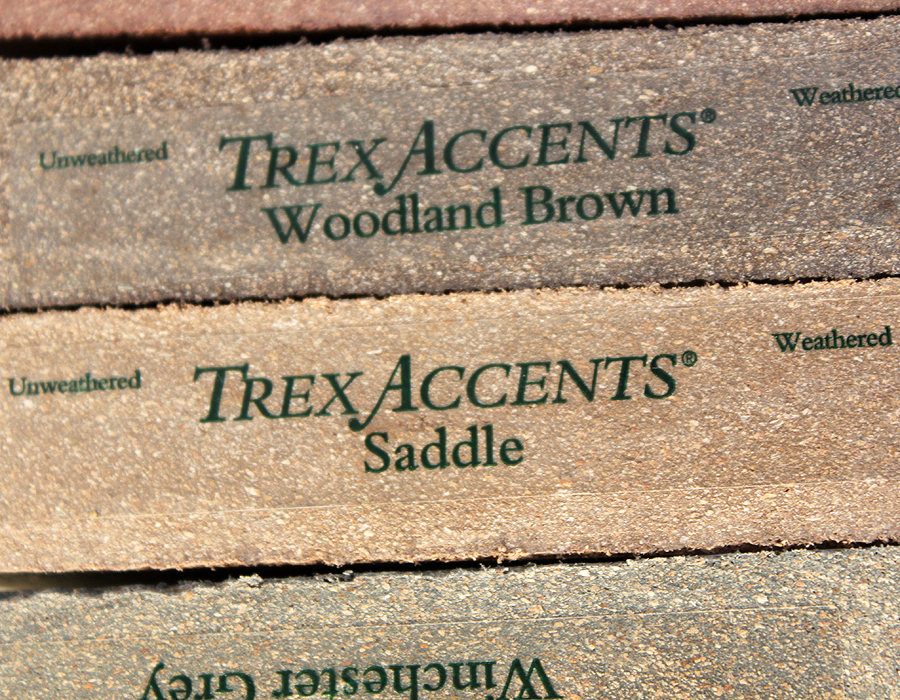 "I've heard nightmare stories about Composite Decking" is a phrase we hear regularly – and it's no secret that as this industry has evolved that early Composites had their fair share of issues. None of the manufacturers hides from this – and what's worth pointing out that any manufactured product suffers from early teething problems as brands iron out defects. What manufacturers like Trex and TimberTech have done is respond to criticism by continuing to advance the technology and process that goes into making their products – and improve how they perform.
Composite Decking in its early form – was a combination of plastic and wood fibre. It was designed to be more resistant to the elements than traditional wood decking, but it still suffered from similar issues like colour bleaching and staining when something was spilt. One of the selling features of Composite decking, was no splinters and no stress about the annual painting, sealing or staining a wood deck requires. However – in reality, these features did not compensate for the aforementioned flaws, so manufacturers moved to develop a product with a more durable surface, that retained its colour and resists staining. Products like Trex Accents and TimberTech Reliaboard were a necessary step in introducing the benefits of low maintenance Composite decking to the world – but their evolution was necessary and the decision was made to protect the core fibre with a shell or cap.
Capped Composite Decking (2008 – present day)
Capped Composites like Trex Trancend or TimberTech Earthwood Evolutions takes performance to a whole new level by taking the core of traditional composite decking and adding a protective non-wood, polymer cap. Capped composites offer enhanced scratch, stain and fade resistant properties. One of the primary benefits of capped composites is the ability to produce a surface look that closely emulates real wood – from the warmth of tropical hardwoods to the look of hand-scraped indoor flooring. High end looks with superior performance in a variety of price points make capped composite decking a choice to be considered by all discerning homeowners.
NEED HELP MAKING YOUR DECISION?
We're here to help you make the right choice – which is why we have in-store samples of all of our synthetic decking products available all year round. These 4″ samples are designed for you to take home with you – along with literature that will help you make the right choice. Put them up against the siding of your house – match them with an existing colour theme, or use the colour of your deck as an inspiration for a complete home or yard renovation. We're confident that when you buy a Trex, Azek or TimberTech Deck – your outdoor living space will become one of your favourite places to hang out inside or outside your home!
find out more information