LIMITED ONLY BY YOUR
IMAGINATION
WHAT WILL YOU

CREATE

WITH AZEK TRIM?
The #1 Brand of PVC Trim – AZEK® Building Products has been manufacturing free foam cellular PVC for over 25 years. AZEK operates the largest trim manufacturing plant in the world and is committed to producing the highest quality trim product on the market.  AZEK PVC Trim is the perfect replacement for wood trim and also performs beautifully as fascia, soffit, beadboard, corner boards, window and door surrounds, column wraps, decorative mouldings, millwork, and much more.
AZEK TRIM ADVANTAGES
AZEK PVC Trim is manufactured using a proprietary combination of ingredients and processing that includes rigorous inspection and quality control of all raw materials as well as the entire blending process. All AZEK products are manufactured using state-of-the-art, one-of-a-kind equipment that ensures consistent quality throughout. AZEK PVC Trim is the perfect choice for heat-forming and routing. Mill shops, OEM fabricators, and contractors across the country rely on AZEK PVC Trim as their product of choice for premium fit and finish. It can be heated and formed into nearly any curved shape or radius. And with its tight cell structure, optimal density, and consistent formulation. It can also be cut and routed easily without exposing voids or unattractive yellow streaking.
UNIFORMITY
Consistent density
Square edges
No voids
No waste, every inch usable
Premium lengths, no upcharge
Contains no known carcinogens
DURABILITY
Never requires paint for protection
Will not rot, cup, split, twist or warp
Impervious to moisture and insects
Suitable for ground/masonry contact
25 year limited warranty
Handles easily without breakage
WORKABILITY
Use standard woodworking tools
Can be safely milled, shaped and moulded
Can be thermoformed
Fasten close to edge without splits
Can rout or cut without "chip outs"
Never requires painting to retain warranty
BEAUTY
Semi-matte white finish
White colour throughout profile
Maintains original colour without protection
Readily accepts paints
Complements all housing exteriors
Can be crafted for unique applications
AZEK TRIM BOARD (S4S AND RABBETED)
Beautiful and long-lasting, AZEK Trim is a more workable and durable replacement to traditional wood in non-stress and non-load-bearing applications. It is easily milled, routed, and heat-formed for exquisite custom looks or curved applications. AZEK Trim does not require paint for protection but is easily painted for aesthetics.
AZEK BEADBOARD
AZEK Beadboard is reversible with an edge and centre bead on one side and a v-groove on the other, offering flexibility when planning a project. It's perfect for wainscoting and porch ceilings.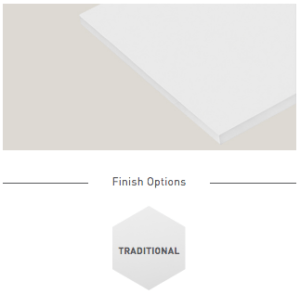 AZEK SHEETS
Applications over 16″ wide are easy with AZEK Sheet. Use them for bay windows, dormers, and raised panels for an upscale and lasting look.
AZEK CORNERBOARD (S4S AND RABBETED)
With a seam that will not open, AZEK Cornerboard offers time savings during installation and an upscale look to complement any home exterior.
azek COLUMN WRAP
This easy-to-install 3-plus-1 column wrap profile saves time and installation costs. Three connected panels and a fourth "locking" panel fit easily and securely around a structural support with press-fit seams and clean corners.
azek INTEGRATED DRIP EDGE
This trim product is designed to assist with water management efforts around doors and windows. The two-piece product, which includes a reversible trim board, is routed to accept a drip edge that's designed to help channel water away from window and door surrounds. Easy to install, the drip edge has an integrated nailing flange to reduce labour and installation costs.
AZEK Adhesive
AZEK Adhesive provides a strong AZEK to AZEK bond. AZEK Adhesive is a water-soluble PVC cement and is non-toxic, odourless, UV stable and during cure time can be cleaned up easily with water.
AZEK Adhesive is available in 4 oz., 8 oz., 16 oz., 32 oz., 128 oz. and 5 gallon sizes.
Get the knowledge with these
Installation Best Practices
AZEK Trim should be installed using the same good building principles used to mill wood or composite trim and in accordance with the local building codes and published AZEK Trim installation guidelines. AZEK Trim may not be suitable for every application and it is the sole responsibility of the installer to be sure that AZEK Trim is fit for the intended use. Since all installations are unique, it is also the installer's responsibility to determine specific requirements in regards to each trim application. AZEK Building Products recommends that all applications be reviewed by a licensed architect, engineer or local building official before installation.
FREQUENTLY ASKED QUESTIONS
Do I need to paint AZEK® Trim?
No. AZEK® Trim products do not require paint for protection but may be painted to achieve a custom colour or to cover nail holes that have been filled. If you choose to paint, use 100% acrylic latex paint with an LRV of 55 or higher.
Does AZEK® Trim come in colors?
No, AZEK® Trim products are manufactured in a matte white finish only, but can be painted to achieve a custom color. Please refer to the painting section in our Trim Installation Guidelines.
What can I use to clean AZEK® Trim?
Depending on degree of cleaning needed, power wash or hose loose dirt off of the trim board. If using a power washer, be sure to test the pressure setting and nozzle first to ensure that the surface of the trim will not be damaged. Other cleaning methods include using a soft cloth and a mixture of mild detergent.
Need Some Help?
Call

778-900-3881

to speak to one of our experts.