Timeless West Coast
character
With

sustainable

, natural Cedar Siding
Cedar Siding is an ideal choice to add warmth and beauty to the interior or exterior of your home. Western Red Cedar not only possesses properties which make it naturally resistant to rot and decay – but can also help insulate your home, whilst helping it to 'breathe'.
Cedar Siding provides West Coast character to homes across North America and beyond, and we're proud to work in partnership with British Columbia's best mills to supply premium quality Cedar Siding products that beautify your home.
As members of the WRCLA (Western Red Cedar Lumber Association) our Cedar products come from Sustainable Forestry practices and we're committed to supporting schemes for maintaining one of BC's most valuable assets.
We supply a wide variety of standard and custom siding an panelling products to builders, contractors and homeowners across BC and beyond, and provide value-added quality commitments to your project, along with convenient Factory-finishing and Delivery services.
All gallery images appear courtesy of WRCLA
BEVELED CEDAR SIDING
the Canadian
classic
Bevel Cedar Siding is the most widely-used siding profile in Canada. It is produced by resawing lumber at an angle to produce two pieces thicker on one edge than the other. No jokes please, the thick edge is called the "butt".
The manufacturing process results in pieces with one face saw textured. The other face is smooth or saw textured depending on the grade and customer preference. Bevel siding is installed horizontally and gives an attractive shadow line which varies with the thickness of siding selected.
STANDARD Sizes / GRADES available
Available in 3 – 20′ lengths
1 x 6 Clear Bevel Siding
1/2″ x 5-1/2″ (4-1/2″ exposure)
1×8, 1×10, 1×12 Knotty Bevel Siding

1×8 11/16″ x 7-1/2″ (6-1/2″ exposure)
1×10 11/16″ x9-1/2″ (8-1/2″ exposure)
1×12 11/16″ x 11-1/2″ (10-1/2″ exposure)
Clear Bevel available in wider profiles by Special Order only. Please contact [email protected] for more details.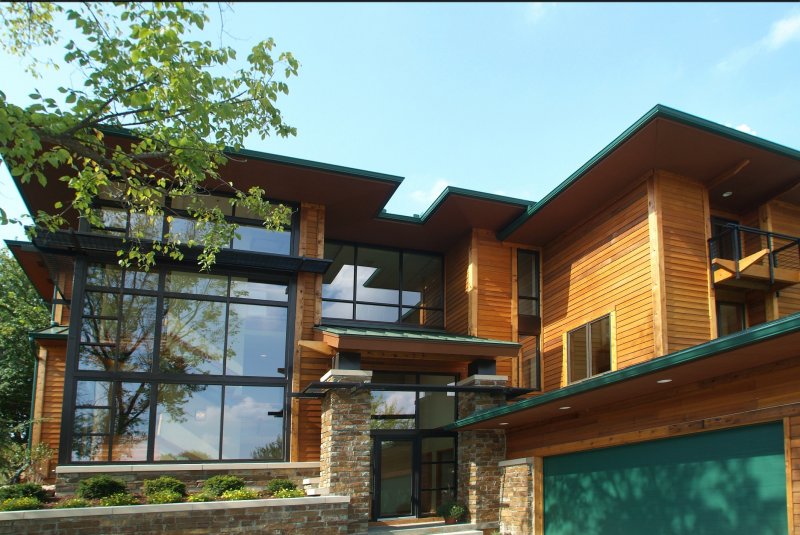 RUSTIC CHANNEL SIDING
add character &
curb appeal
Channel Cedar Siding is a popular type of lap siding and is used whenever a rustic appearance is desired. A versatile siding, it can be installed vertically, horizontally or diagonally. In channel siding, the profile of each board partially overlaps that of the board next to it creating a channel that gives shadow line effects, provides excellent weather protection and allows for dimensional movement. It can also be used as 'builders soffit' material, where the V-groove on the smooth back face creates the effect of a double tongue & groove panelling.
Sizes & GRADES
Available in 3 – 20′ lengths
1×6, 1×8, 1×10 Rustic Channel Siding

1×6 3/4″ x 5-1/2″ (4-3/4″ exposure)
1×8 3/4″ x 7-3/8″ (6-5/8″ exposure)
1×10 3/4″ x 9-3/8″ (8-5/8″ exposure)
Clear Grade Channel Siding is only available by Special Order. Please contact [email protected] for more details.
Looking for Cedar Tongue & Groove Siding?
Browse our range of Soffit & Panelling Products suitable for a variety of Interior and Exterior applications.
Japanese Charred Wood Siding
THE
ANCIENT ART

OF SHOU-SUGI-BAN

High-end design and Far East tradition intersect with this dark dramatic Japanese siding produced by a process called Shou-sugi-ban (or yakisugi). Siding created by this method also has an expected lifespan of more than 80 years.

Find out more
Haida Skirl Siding
Distinctively

West Coast Canadian

Haida Skirl (also known as Wavy Edge Bevel Cedar Siding) combines the natural beauty and legendary performance of Western Red Cedar with a unique manufacturing process that creates a distinctive look that cannot be replicated by any other material. Handcrafted, the deep texture and wavy edge of Haida Skirl makes a dramatic statement that enhances the street appeal of any home.
Features
Sawn textured, fine-grained to accentuate the natural beauty inherent in Western Red Cedar.
Hand Selected for Quality
100% Tight-knot or Perma-fused Knots where necessary
Available in Clear and Select Tight-Knot Grades.
A high percentage of heartwood for added durability.
Kiln dried to 14% average moisture content to ensure maximum stability.
sizes & Grades
Available in STK and Clear Grades. 3 – 20′ lengths (odd & even). Minimum 70% 8′ & longer, Maximum 12% 3 – 5′.
Haida Skirl

15/16″ x 10″
15/16″ x 12
7/8″ x 8″
11/16″ x 8″
11/16″ x 10″

Haida Majestic Skirl
With a high quality Wood Finish
ALTERNATIVE

SIDING PROFILES

Working with local Mills we supply all kinds of standard, traditional and custom Siding profiles to suit a variety of needs. Beyond more common, widely used profiles such as Bevel and Channel Siding, we also have access to more specialist profiles such as Shiplap, Drop Siding, Double Bevel, and Log Cabin Siding.
Sizes & GRADES
Available in 3 – 20′ lengths in either Knotty or Clear Grades
1×6 Shiplap
1×6 Drop Siding
1×8, 1×10, 1×12 Double Bevel
2×6, 2×8 Log Cabin Siding
Heritage Siding (Special Order & subject to additional set up fees)
Custom Siding: Please email

[email protected]

with drawings and detailed information about your custom siding needs.
Factory Finishing Service
We offer a complete Factory Finishing service – offering you the opportunity to have materials with a wide variety of custom coatings and finishes, delivered directly to your job-site ready for installation.
Need Some Help?
Call

778-900-3881

to speak to one of our experts.