With new Windows you can
add light
and

improve energy efficiency

in your home
As one of the leading Window suppliers in Metro Vancouver, we supply Windows for new homes and renovations across lower mainland Vancouver, BC and beyond. Working closely with our valued suppliers, we ensure that all of our Windows not only meet important building code requirements but also Energy Star rated, making sure that your home is safe, warm and energy efficient for years to come. Our experts spend the necessary to make sure all of the important details are covered prior to purchase, making sure that all the measurements are correct and the finished product is exactly what you ordered. We pay incredible attention to those important details and provide expert advice to help you choose the right product to complement your home design. With a wide variety of materials, styles and colours to choose from, we're sure to have the right Windows for your Commercial, Residential or Multi-family project, at prices that put us ahead of the competition.
The lower sash of Single-Hung windows slides vertically to open while the upper sash remains stationary.
Hinged at the top, Awning windows open from the bottom and push out. They are often combined with picture windows.
Hinged at the side, Casement windows open by swinging outward allowing maximum ventilation from top to bottom.
Offering a fully unobstructed opening, fullvent windows are ideal for egress access in basement bedrooms. Hinged along the top these windows open inward and are available in multiple sizes.
Fixed or Picture windows do not open. They can be built in a variety of geometric shapes and sizes including rectangular and curved.
With one fixed sash and one operating sash, Sliding windows open horizontally, or side-to-side.
JELD-WEN WINDOWS
Founded by four men flush with an entrepreneurial spirit, JELD-WEN has over 50 years of experience that we put to work for you day in and day out. Since our inception, JELD-WEN has been producing a reliable product of great quality. With decades of experience to our credit, JELD-WEN offers quality products that you can be proud of. Put our experience to work for you and see the JELD-WEN difference.
ALL WEATHER WINDOWS
With a 37-year history of door and window expertise, All Weather Windows specialise in manufacturing hand-crafted products, while offering outstanding service. With a state of the art manufacturing process, All Weather Windows prioritizing comfort, lowering costs. and reducing environmental impact. Specializing in beautifully-crafted windows and doors, we provide energy efficient, sustainable and weather-resistant solutions to Canadian homeowners, builders and contractors. When you combine high-quality product lines with a great warranty program and you've got a company that's equipped to meet customer needs.
PLYGEM WINDOWS
Since 1947 Ply Gem has been manufacturing products in Canada for our Canadian climate. Ply Gem manufactures a comprehensive line of windows, doors and patio doors for the new construction, home repair, retail and remodelling markets in Canada. From economical to luxury, each of Ply Gem's window lines addresses customer demands for attractive, energy efficient, easily maintained exteriors.
Get Expert Advice
Choosing the right Windows, and making sure you have all the correct measurements can be an overwhelming process, particularly if you are building a new home or replacing multiple windows during a renovation. Luckily, we're here to help. Our experts take the headache out of the process for you, with helpful advice on how to gather the info you need. For larger projects, we also offer an on-site measuring service.
Frequently Asked Questions
WHAT IS LOW-E GLASS?
Low-E, or low emissivity glass has been coated with a low-emittance material designed to reflect heat. A window made with low emissivity glass repels ultraviolet rays that cause heat during summer months, but absorbs them and lets the heat in during winter. This type of glass can help you significantly lower your energy bills all year long.
WHAT IS ENERGY STAR?
ENERGY STAR is a voluntary Canadian energy efficiency initiative that helps consumers identify the most energy-efficient products available. Administered by Natural Resources Canada, the ENERGY STAR program is internationally recognized and users include various levels of government, public service companies, manufacturers, retailers and environmental organizations. In addition to administering the program, Natural Resources Canada oversees the promotion of its symbol and compliance with strict certification standards. ENERGY STAR-qualified products include home appliances, office equipment, consumer electronics, heating, cooling and ventilation equipment, lighting and signage equipment, commercial and industrial products, and windows and doors. For more information on energy efficiency, visit www.energystar.gc.ca.
WHAT IS PERFORMANCE ENERGY RATING (ER) AND THE U-VALUE?
The U value measures the transfer rate or the thermal conductance of a product. The lower this value is, the more isolating value of the product is. The energy performance rating assesses a window based on 3 aspects: the solar heat gain contribution, heat loss by the frame, the glazing or the spare and the heat loss by air leakage, no matter the material and the assembly method. Also, the higher the ER value of a product is, the better its energy performance. In order to get the ENERGY STAR sign on a product, the U or the ER values must be certified by a third party.
WHAT IS A ROUGH OPENING?
A rough opening refers to the framed opening of a window. A window frame, however, has a header across the top, a sill plate across the bottom, and vertical trimmers on either side. Because these elements take up space, a window that measures, for example, 3 feet wide and 4 feet tall is listed as 3/0 – 4/0, but the actual window measurements will be slightly less than this to accommodate the installation system. The difference between rough opening and actual window size will vary by manufacturer.
HOW DO I MEASURE THE ROUGH OPENING FOR A WINDOW?
When measuring for windows that will fit in your rough opening, follow these simple steps:
Measure the width across the window top of your opening between the inside faces of the framing on each side.
Measure the width across the bottom of your window opening between the inside faces of the framing on each side.
Measure the height of the opening between the bottom of the header and the top of the sill on the left, right, and center of the opening.
Measure the thickness of the flashing needed.
Deduct ½ inch from the measured width and 5/8 inch from the measured height to allow room for paper flashing on each side of the rough opening.
WHAT IS THE DIFFERENCE BETWEEN CLAD AND NON-CLAD WINDOWS?
Cladding is a covering or coating on a structure or material. Clad Windows utilize a wooden interior frame with an exterior cladding of either fibreglass, vinyl, or aluminum. With the exception of the glass, Non-Clad Windows are made from 100% wood, fibreglass, vinyl, or aluminum.
WHAT ARE THE BENEFITS OF CLAD VS NON-CLAD WINDOWS?
Benefits of Clad Windows Clad windows provide the warmth of real wood while offering additional benefits from the material it's clad with on the exterior. Since materials like Vinyl, Aluminum and Fibreglass are not subject to warp, rot and seasonal expansion/contraction, Clad Windows offer superior strength and durability compared to wood. Clad Windows also offer low maintenance benefits while still offering a rich, warm wood look inside the home. Furthermore, Clad Windows have better resistance to air and water infiltration than wood windows, thus improving energy efficiency and ensuring optimal comfort at the same time. Benefits of Non-Clad Windows The biggest reason people choose Non-Clad Windows is the lower cost. With no expensive wood components, Non-Clad windows are a less costly investment when building or renovating your home. Other benefits include R-Value and Lower Maintenance. For example, since it expands and contracts at a lower rate than other materials, window frames made from Fibreglass do not require an additional thermal barrier, reduce air leakage which can help reduce energy bills. 100% Vinyl Windows are highly durable and since the colour is baled into the material you'll never have to re-paint and they won't fade, blister or peel. won't blister, peel, or fade.
WHAT DOES R-VALUE MEAN WHEN IT COMES TO WINDOWS?
At the technical level, R-value is a measure of resistance to heat flow through a given thickness of material. In theory, the higher the R-value, the greater that resistance. That's true to a point, but it's just one of four key factors that determine the effectiveness of an insulation material.
Add natural light and save money
Roof Windows, Skylights & Sun-Tunnels
A Skylight, Roof Window or Sun-Tunnel can transform any room in your home by adding beautiful natural daylight. By lighting your rooms naturally, you can also save money on your energy bills. Modern Skylights are suitable for either fixed or pitched roofs and range in style from a more basic fixed flange unit, to more elaborate electronically controlled models that open and close at the push of a button.  If you want to add daylight to a room on the ground floor of your home, a Sun-Tunnel might be the solution you've been looking for.  By creating a path from your roof to your room, Sun-tunnels channel light from your roof to the ceiling of your room, where a diffuser spreads warm, soft light throughout the room.
VELUX ROOF WINDOWS
Velux is the market leader in the manufacturing of roof windows. With over 75 years, industry experience, VELUX leads the way due to an intense focus on creating the best quality, most energy efficient daylighting products available. With Velux Roof Windows you can add light and easy access to your rooftop with best in class weatherproofing and peace of mind security. Choose from a range of styles and access options. You can even create your own mini balcony or terrace with Velux's new Cabrio™ system.  Find out more below.
GPU- Top hinged roof window
Enjoy panoramic views while increasing your energy efficiency and natural ventilation. Greatly increase the amount of natural light in your rooms. Convenient bottom operation – the perfect choice for loft conversions with windows in easy reach.
GGU- Centre pivoting roof window
Easy to open and quick to close with the top control bar. Low installation allows for more flexibility and better views. Ideal for rooms with a high humidity like kitchens and bathrooms but they will fit in nicely in any room because of their modern and contemporary look.
GXU- Roof access window
Allows easy roof access for repairs, maintenance, emergency and egress. Features a slim sash and frame appearance and locking device keeps sash in open position. Can be installed as either left or right hinged roof access window.
GDL- CABRIO® balcony roof window
Create a Balcony in seconds. Top half opens like a traditional roof window. Add extra daylight, fresh air and direct access to the outdoors with these innovative windows. Choose CABRIO if you'd like to add a balcony to your home or choose a roof terrace window to make use of unused roof space.
VELUX PITCHED ROOF SKYLIGHTS
Velux is the market leader in the manufacturing of skylights. With over 75 years, industry experience, VELUX leads the way due to an intense focus on creating the best quality, most energy efficient daylighting products available. With Velux Skylights, you can warm your home with the beauty of natural light, and open up your home to fresh outside air, with products that provide with best in class weatherproofing and peace of mind security. Choose from a range of styles and functions, like Electric Venting, that provides operation at the push of a button.
Electric Venting Skylights
Designed for both deck and curb mount installations, the VELUX Electric skylight is the perfect daylighting solution for overhead applications. It allows for abundant natural light, and with the touch of a button, opens to let in fresh air. And if you forget to close it, a rain sensor will shut the skylight during inclement weather.
Manual Venting Skylights
Designed for both deck and curb mount installations, the VELUX Manual skylight enables any home to embrace the best of what nature has to offer. Opening for maximum fresh air, this venting skylight contributes to a home's proper moisture balance and comfort level by allowing stale, humid air to be released.
Fixed Skylights
VELUX fixed skylights, designed for deck mounted installations, are perfect for visually expanding areas such as hallways, stairwells, and other closed-in, dark spaces that can be transformed with light and sky views. They provide an economical choice in creating a spacious home that is filled with natural light.
VELUX FLAT ROOF SKYLIGHTS
Velux is the market leader in the manufacturing of skylights suitable for flat roofs and commercial buildings. With over 75 years, industry experience, VELUX leads the way due to an intense focus on creating the best quality, most energy efficient daylighting products available. With Velux Flat Roof Skylights, you add natural light and air to stuffy workspaces and access points to rooftops, with products that provide with best in class weatherproofing and peace of mind security. Choose from a range of styles and functions.
CFP- Flat roof skylight
VELUX Flat roof skylights are highly energy efficient, innovative solutions for bringing large amounts of sunlight through a flat roof. The CFP is a fixed flat roof skylight to let in natural light and provide a view to the outdoors.
CVP- Flat roof manual venting skylight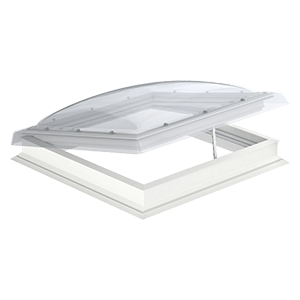 The CVP is a manual venting flat roof skylight that provides daylight, ventilation and fresh air through the roof.
CXP- Flat roof exit skylight
The innovative CXP is a flat roof exit skylight is designed to provide access to your roof. Bring in natural light, enjoy the view and access your roof- all in one solution.
Studies have shown that people exposed to natural light are more productive, achieve a better sense of well-being, and are more positive. Until recently, the technology to deliver natural light to interior spaces like closets, bathrooms, offices and corridors simply didn't exist. That's no longer the case. As a pioneer of the daylighting industry and the global leader in tubular daylighting devices for more than 20 years, Solatube has perfected the technology of capturing and transmitting the sun's rays indoors. Solatube tubular daylighting devices, (or TDD's for short), are affordable, high-performance lighting solutions that bring daylight into interior spaces where traditional skylights and windows simply can't reach. Sometimes called "tubular skylights," "light tubes," "sun tunnels," or "light tunnels," TDD's have become the ideal solution for lighting interiors in a cost-effective, energy-efficient and eco-friendly way because they significantly reduce the need for electricity while keeping people connected to the outdoor environment. Our newest innovation, the Solatube ISn Daylighting System, harnesses the sun's energy during the day to power a soft-glow, solar-electric nightlight. What's better, cost of the entire system and installation qualify for a 30% federal tax credit. https://youtu.be/wrAJy2pYH7w
FEATURES & BENEFITS
BRIGHTER SPACES – Sunlight can transform a dark room into one that's full of natural light and life. FREE LIGHT – With an energy-efficient Solatube Daylighting System, you can light your home for free during the day using no-cost sunlight. EASY TO INSTALL – Traditional skylights can take days to install. Solatube Daylighting Systems take just a couple of hours. LEAKPROOF DESIGN – Solatube flashings work with all roof types—including shingle, slate, tile and metal. Their seamless, one-piece steel construction eliminates the possibility of leaks. NO STRUCTURAL CHANGES REQUIRED – Solatube Daylighting Systems require no structural changes during installation. Rather than cutting through rafters and joists, our systems go between and around them.
Need Some Help?
Call

778-900-3881

to speak to one of our experts.