Record Store Day takes place each April, with millions of Vinyl enthusiasts new and old descending on their favourite local Record Stores (like our very own Apollo Music here in Port Coquitlam) to grab the latest cuts. With Vinyl Records making a huge comeback in recent times – many collectors are looking for new vinyl record storage ideas for their beloved LP's.
With all the special edition Vinyl Records that you'll be buying today – you too are probably going to need some more storage! We've trawled the web for D.I.Y vinyl record storage ideas using simple building materials like Plywood. Check out the feature below and tell us which is your favourite. Remember we sell a wide variety of Plywood products suitable for making some of the storage solutions you see on this page – and we would love to see some of your projects featured in our Gallery!
Until then – happy hunting on National Record Store Day in Canada!
You can send your project videos and pictures to marketing@pocobuildingsupplies.com
Record Album Storage Cube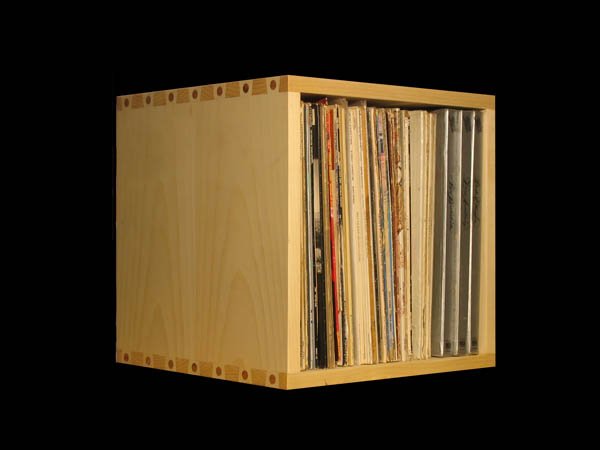 Presenting The Record Album Storage Cube by Stan Pike Designs. The Cube is hand-made using the finest clear pine, with hand-cut dovetail joinery.
Each Cube will hold approximately 80 LP vinyl record albums in beautiful archival storage. A perfect place to keep all your favourite albums.
Finished with Danish oil and natural beeswax to a silky touch. Insides are finely sanded but without finish for better protection of record albums.
The perfect way to store your collection. Each cube may be stacked in any number of ways and may also be used to make interesting bookshelves or storage cabinets.
Unfinished Oak Record Crate
This Unfinished Oak Record Crate is fitted with 1/4″ Baltic birch plywood inlay. The unfinished inlay is a ready-to-use, solid bottom plate that can be easily added to any Oak or Ambrosian Maple record shelf units.
This add-on makes the shelving incredibly versatile, accommodating both smaller-than-LP-size vinyl and opening the door to a myriad of other functional storage possibilities.
If you frequently add, remove, and/or reorganize your records, inlays help protect album corners from snagging if accidentally dragged across the bare shelf frame.
ATOCHA DESIGN Record Stand
More than simply record storage, New York designer Jenn Atocha creates vinyl-specific furniture pieces so aesthetically pleasing they can serve as an anchor for an entire room.
Hand-crafted with finish options ranging from walnut (below) to maple, cherry and oak, The Record Stand is designed specifically to support the weight of a large record collection, each drawer holding up to 95 LP's.
What we love most about Jenn's designs is the ability to flip through records easily and quickly see the cover art with each.  There are multiple furniture designs with a variety of customization options should you require extra space for 7″ vinyl records or CDs.
WAKA WAKA RECORD STORAGE UNIT
WAKA WAKA is a Los Angeles based studio focusing on wood furniture and functional objects designed and hand-crafted by Shin Okuda. His work ranges from seating concepts, utilitarian objects and space design, all of which demonstrate a simplicity in form, subtle detailing and a unique interpretation of proportion. Wood is often the chosen material, specifically Baltic birch plywood, for its generic utilitarian application and its superior quality for furniture making. "I waka waka waka – I go many places," which is the spirit of the studio. Look forward, look up, look out!
Shin Okuda was born in Fukuoka, Japan and now lives and works in Los Angeles, CA. He also collaborates on the concept space IKO IKO.
Horizontal Record Album Storage Unit
Stan Pike's Standard Horizontal Record Album Storage Unit is hand-made with the finest clear pine joined with hand cut dovetail joinery.
Each unit will hold approximately 255 LP's, or 85 per cubicle. Legs and joinery details are made of oak standard but cherry, mahogany or walnut may be substituted at no additional charge. This piece provides a functional and visually interesting way to store your prized collection.
Outside measurements: 43 1/2″W x 21 3/4″H x 15″D.
Each cubicle measures 13 1/2″H x 13 1/2″W x 14 5/8″D.
The Folded Record Bureau
English furniture maker Hugh Miller's Folded Record Bureau is a play on both form and function, incorporating the features of a vintage 1985 Bang & Olufsen BeoGram 5000 turntable, complete with original controls, installed flush into a long record shelf with a fold for magazine storage at one end.
Hugh's Folded Record Bureau is currently a one of a kind creation, so you'll just have to appreciate the craftsmanship from afar. But there are several low and long media consoles available functioning with similar features (sans built-in flush mounted turntable):
D-I-Y WALL STORAGE UNIT
BONUS

FEATURE!
How to look after your Vinyl Records in

7 Easy Steps
Whether you've just started collecting – or have been digging through crates since you were old enough to have pocket-money, storing your records in the correct way helps protect the vinyl itself as well as the sleeves and artwork. We've compiled a 7-step guide to how to take care of your vinyl records so you can enjoy them for years to come. Treat them with respect and they will last a lifetime – but remember, records are meant to be played, so don't be afraid to put the needle on the record!
1. Bust the Dust
To protect from records from gathering dust, store them in their original cardboard cover – inside the inner sleeve. All new records come with inner sleeves which are made from paper or plastic, but some people mistakenly discard them. If you're buying used records which don't have inner sleeves, most record stores now sell acid-free plastic sleeves.
2. Keep it Cool
Heat is a record's worst enemy and if they're allowed to get too hot records will warp or even melt. Store your treasures away from heat sources, such as baseboard heaters, open fires, potbelly stoves etc. Sunlight will also damage records both from heat and UV rays so keep them away from direct sunlight. Planning a trip to the record store before hitting the beach? Think twice before leaving your records in a hot car – you could return to a nasty surprise.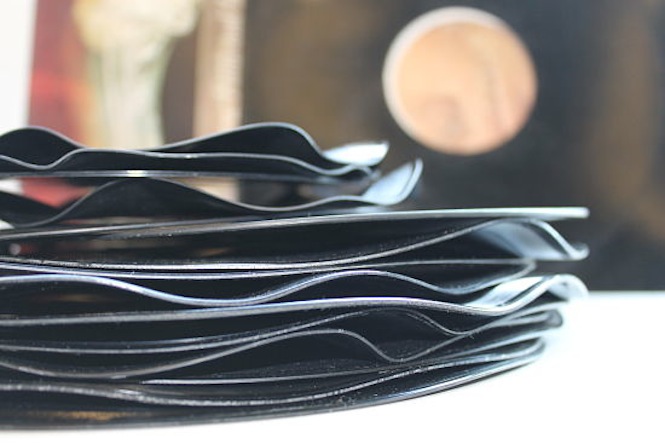 3. Do not add Water
Keep your records dry and away from damp areas. Humidity will provide a fertile ground for mould growth, which can destroy your limited edition covers and artwork. Do not wash your records in the kitchen sink. Use specialist cleaning equipment designed to remove dirt without damaging the surface.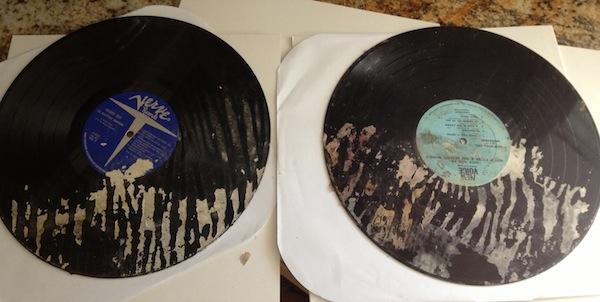 4. Upright…is out of sight
Upright is the best position to minimize damage. When storing in this way – try not cram them too close together as this could damage the cover or the vinyl itself. Storing your records piled on top of each other can cause them to become warped. Some collectors also insist on storing records in a relatively airtight container or cabinet as additional protection, along with regularly vacuuming around them to keep the records dust-free. For the most part though – the inner sleeve and cover should provide enough protection.
5. Handle with care
Records are obviously fragile, scratch easily and will sometimes break when dropped. However, even holding them with care can cause problems as the oils from your fingers are left behind and build up over time, so it's important to hold records by the sides or the centre label only.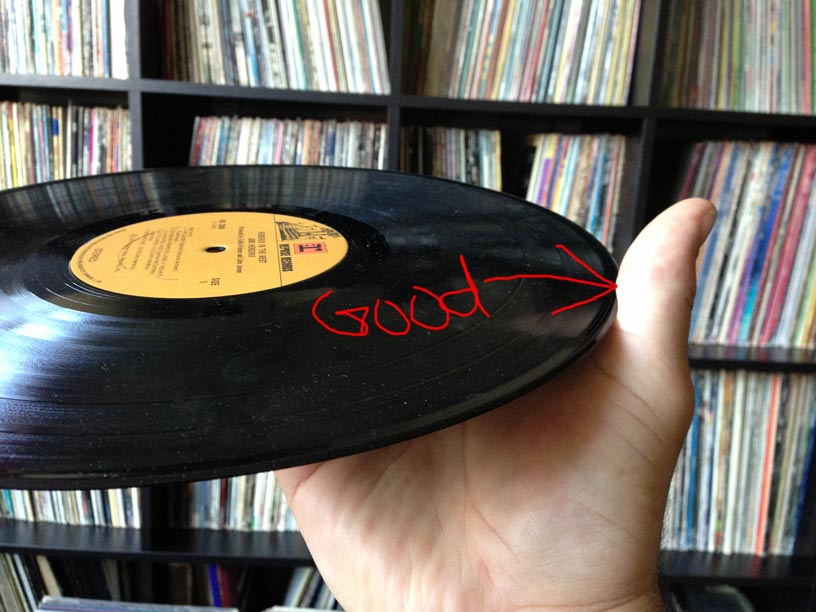 6. Keep 'em Clean
Keeping your records clean will minimize the potential for damage from dust and other particles which could result in scratching. Dust catchers are a good investment and it's good practice to use one each time you place you record on the turntable to collect dust prior to placing the needle.
To clean really dirty or dusty records, we recommend the Spin Clean as a solid investment. These units are relatively inexpensive and parts are washable. For more details and instructions click here
7. Maintain your Turntable
A poorly maintained record player can harm your records. Keep the turntable clean and buy a good quality needle/cartridge which will not only protect your vinyl but also improves sound quality. Setting your turntable's anti-skating mechanism correctly means that the needle is balanced correctly and not applying too much pressure to one side of the groove. See your turntable manufactures handbook for how to do this – or check out these youtube tutorials.
If you don't feel like cleaning your vinyl records in the traditional way and are feeling brave – why not give this method a whirl. This YouTube tutorial shows you how to deep clean a vinyl record using white glue!
want to get started on a
D.I.Y project

?
get in touch today!