Premium Quality

Batu Hardwood Now comes in

Easy to Install

Deck Tiles
Nova ExoTile Interlocking Batu Deck Tiles are a luxurious new hardwood decking product transforming outdoor living spaces across North America. POCO Building Supplies is proud to now offer Nova Batu Deck Tiles, which use the same remarkably high-quality hardwood as our residential and commercial decking products.
These beautiful hand-crafted Batu Deck Tiles give you the ultimate elegant outdoor living experience. ExoTiles are highly versatile, have the ability to create patterns, are quick to install, can be utilized on pre-existing structures, and can be easily uninstalled or moved to a new location.
Nova ExoTile Batu Deck Tile
Hardwood Deck Tiles have increasingly grown in popularity to become the premium outdoor flooring solution for rooftops and balconies. Nova ExoTile Batu Deck Tiles allow owners of homes, apartments, condominiums and townhouses to add a sense of relaxed luxury and style to any outdoor living space. Rooftop decks can high-quality into beautiful and relaxing outdoor gardens in the sky.
Condominium living space is expandedlong-termand your balcony can be transformed from a steel and concrete jungle into an urban oasis. With ExoTile wood deck tiles, nothing is attached or affixed to the walls, floors or railings of your condo, townhome, ground-level patio, or rooftop space.
The open profile of the ExoTile allows air to circulate around the entire tile while water, dust and small debris fall through the deck boards and wash away underneath, leaving your floor surface clean, dry and fresh. Because glue, grout and nails are not needed for installation, condo and HOA / strata rules are no longer a problem!
FEATURES & BENEFITS
Cost effective vs other hardwoods and composite deck tiles
Made from Sustainably Forested Premium Hardwood
Extremely durable & resistant to rot, decay and insects
Easy to Install & Easy to remove and store seasonally (if required)
Floating decks can be installed on roofs and balconies without compromising waterproof membrane
Easy to maintain, clean and refinish (if required)
ExoTile Batu Deck Tiles Stained with ExoShield 'Dark Walnut'
ExoTile Batu Deck Tiles Stained with ExoShield 'Natural'
Available Sizes
Nova ExoTile Batu Deck Tile is currently only available in  24"x24"
This convenient size offers the best bang for your buck along with ease of installation.
Made from Premium Nova Batu, in the same grade as our renowned high-quality exterior hardwood decking line, each wooden deck tile features nine pieces of nominal 1×3 Batu running parallel to one another. The bottom support of the deck tile is formed using an additional 3 pieces of matching hardwood. This construction creates a supported wood deck tile with no sag. Moreover, all our wood deck tiles are assembled with stainless steel fasteners for long-term durability.
With Deckwise Tile Connectors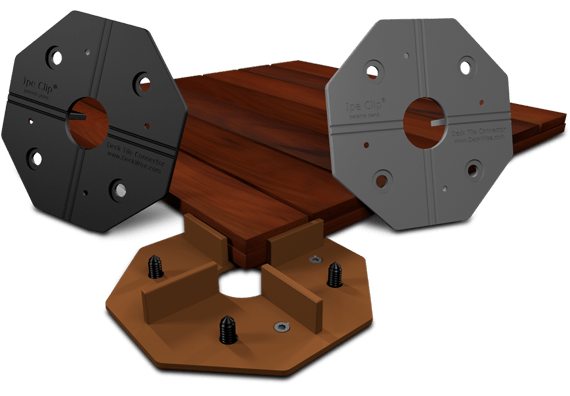 Batu Deck Tiles can easily transform any flat surface into a gorgeous living space. One of the things that makes Deck Tiles unique is that they can often be installed directly on top of a pre-existing flat surface such as a cement patio or balcony. By laying them parallel to one another or perpendicular to each other you can create a variety of looks using the same types of tiles.
This "place-on-top" style of installation allows for an easier install for homeowners and families looking for a weekend project that will bring warmth and beauty to their living space. In addition, it allows the user to have a beautiful hardwood deck on top of a patio without building the framework. Deck Tiles are a game changer for those who rent their properties or homes because they are easy to both install and uninstall and can be taken to a new location when needed. This means that the landlord won't have to worry about the leftover structure and the renter won't have to lose out on their beautiful investment!
Nova's ExoTile Batu Deck Tiles are 100% compatible with the DeckWise pedestal support system and interlocking snap together tile clips
FEATURES & BENEFITS
Corner pins secure tile placement. Each connector comes with 4 ribbed pine tree clips already inserted for quickly snapping into tile fastener holes.
Every connector also comes with 4 molded score lines for easily cutting and trimming around decking edges, corners or any specific installation space need.
Elevates the deck tile from the wet subsurface to help prevent wood rot.
Chemical & UV resistant polyethene.
Pre-drilled countersunk holes for easy fastening into a concrete slab or existing wooden deck.
Perfect preset 3/16″ gap spacing for an effortless, even looking surface.
Can be divided into halves or quarters easily with hand tools using the pre-moulded score lines.
Center drain hole provides improved drainage for water runoff to prevent pooling in the corners.
Matte texture provides better appearance between gaps.
DECKWISE TILE CONNECTOR
Ordering Deck Tile Connectors at 1.25 connectors per deck tile gives the optimum number needed. Of course, this depends on cuts and or corners needed, 1.25 connectors will create for multiple layouts.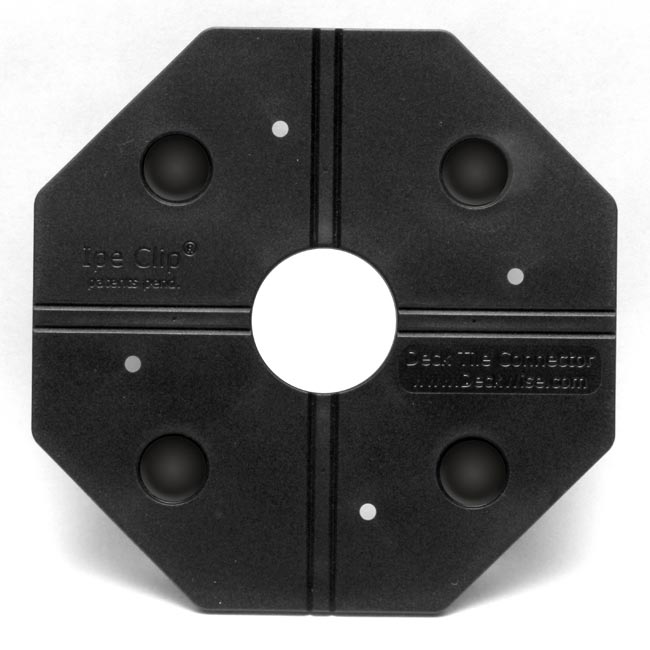 SHADOWLINE BLACK
IN-STOCK!
HARDWOOD BROWN
SPECIAL ORDER – 2 WEEKS
CONCRETE GREY
SPECIAL ORDER – 2 WEEKS
Give your Deck Tiles some WOW factor!
With ExoShield Hardwood Oil
THE
BEST

EXTERIOR WOOD STAIN EVER PRODUCED

ExoShield wood stain offers superior protection for exterior wood applications such as decking, siding and outdoor furniture. Our secret formula protects your project while allowing the natural beauty of the wood to remain the focus.

Using a proprietary blend of Tung Oil, UV Blockers, Fungicide, and Trans-oxide pigments, the exclusive marine grade ExoShield formula provides long-lasting protection for exterior wood decking, siding & outdoor furniture while using only the finest marine grade components.
FEATURES & BENEFITS
Up to 800 SF of Coverage on Hardwoods
Low VOC, All Natural Product
Marine Grade Components
Longest Lasting Wood Stain Available
Suitable for use on Ipe, Batu Mahogany, Cumaru, Tigerwood, Hardwood & Softwoods
Exoshield Colours
Need Some Help?
Call

778-900-3881

to speak to one of our experts.