---
LP SolidStart I-Joist Benefits
LP® SolidStart® I-Joists are more versatile than open web floor trusses, and more uniform and dimensionally stable than lumber. They can be trimmed on-site, and long lengths allow ceilings and floors to be designed with fewer pieces, saving installation time. Build sturdy, stable floors with wider flanges. Benefits include:
• Quick Installation: Weighs less than traditional lumber.
• Cost-Effectiveness: Long lengths allow ceilings and floors to be designed with fewer pieces.
• Peace of Mind: Less likely to split, shrink, twist, warp or bow.
• Durable Design: Larger nailing area and increased stability.
• Sustainability: Wood sourced through programs certified under the Sustainable Forestry Initiative®.
• Lifetime Limited Warranty: Extensive product line backed by warranties you won't find with traditional lumber. See complete warranty details for more information.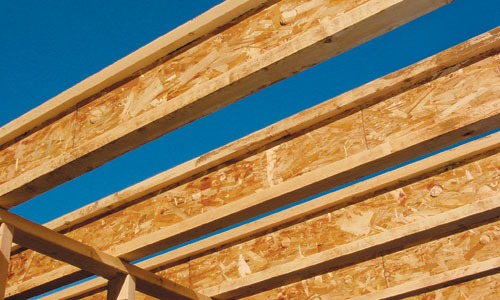 How It's Made
LP® SolidStart® I-Joists feature an advanced design and tough build for superior performance:
Combines laminated veneer lumber (LVL) or finger-jointed sawn wood flanges with a web of oriented strand board (OSB) to produce an I-shaped structural member.
Both materials work together to resist deflection, bending stresses and shear.
LVL and MSR lumber flanges up to 3-1/2″ wide for greater stability.
For more information on these, and other engineered wood products, please visit our Products Page.