Ahead of the forthcoming POCO Grand Prix, we thought we'd put a #woodwednesday spin on our latest Blog post. We've trawled the interweb for the most interesting Wooden Bicycles and compiled a gallery of our 17 favourites. We're not sure whether we'll see any Plywood Bikes cross the finish line at this year's Tour de France – but there's certainly some craft and engineering going on with bikes such as the AERO Birch and wonderfully named 'Lagomorph' commanding fees of up to $6000
1. Wooden Bicycle by Jan Gunneweg
This Wooden bicycle from Jan Gunneweg is not only made from solid wood: it comes with matching wood sunglasses. Sounds gimmicky, but you have to see the photos to believe how beautifully crafted this bicycle is. From the frame to the asymmetrical wheels, Gunneweg's bike is lovingly shaped into an incredibly elegant form of transport, and the shades go right along with the package.
Even the tires are a natural wood tone, a nice touch that makes this bike appear to be almost entirely crafted from maple. Just the handlebars, adjustable seat mount, spokes, pedals, and chain are metal. We're not so sure about riding on a wooden seat but otherwise can't imagine a more stylish way to pedal to work.
2. Ghana Bamboo Bikes Initiative
The Ghana Bamboo Bikes Initiative is a social enterprise that addresses climate change, poverty, rural-urban migration and youth unemployment by creating jobs for young http://ghanabamboobikes.org/en/people, especially women, through the building of high-quality bamboo bicycles.
They offer multipurpose second generation bamboo bikes that are suitable for the high terrain and rough roads for local and international needs using native bamboo. We believe that business opportunities exist in all the areas of Ghana and are committed to improving the standard of living of young Ghanaians through the creation of sustainable social enterprises.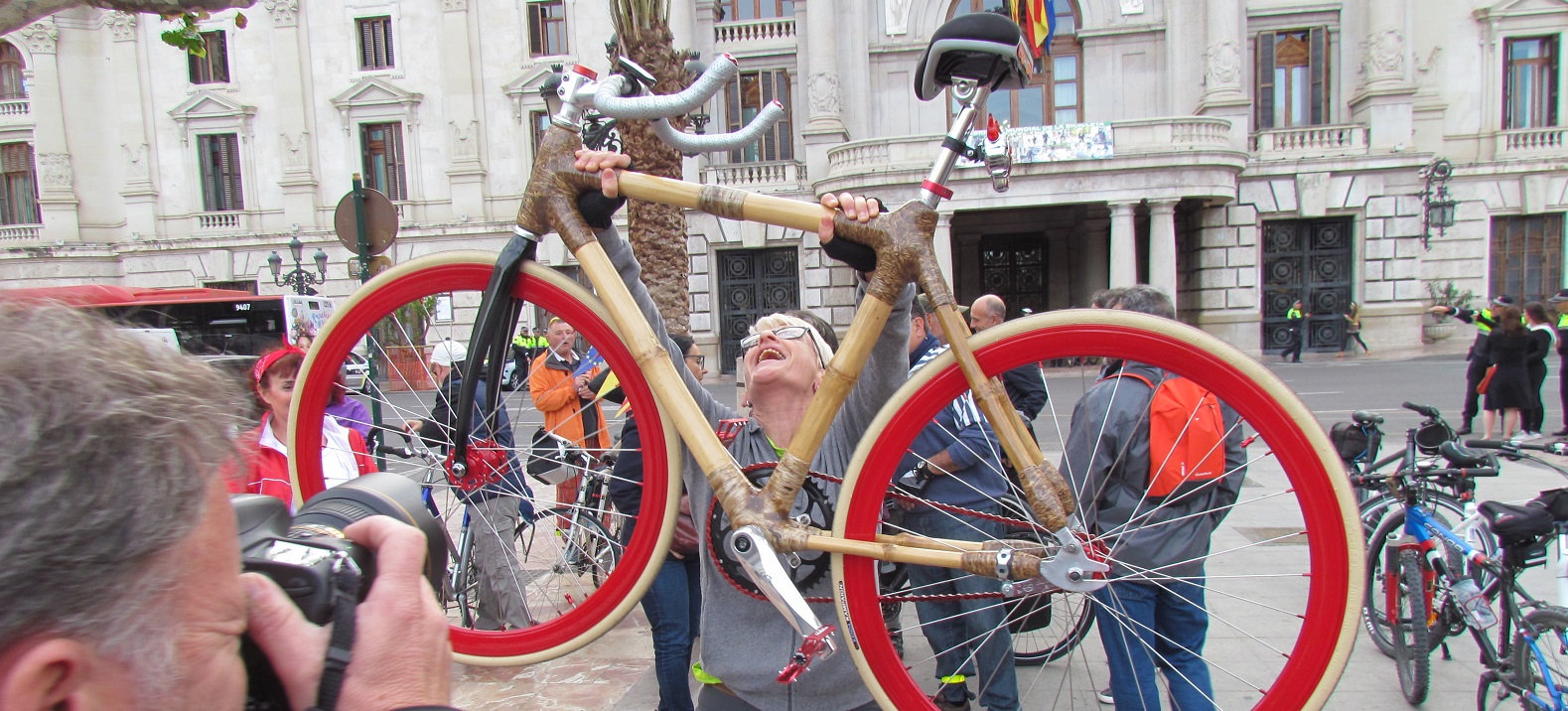 "At the moment our product line consists of city bikes, road bikes and mountain bikes. Since all of these bikes are handcrafted by skilled professionals, we are able to customize the bike to your needs. If you have specific wishes, please let us know, so we might be able to help you out with it. For instance, if you want a bamboo luggage carrier implemented into the bike, we can do that.

We craft the bikes in many different frame sizes and offer several wheel sizes and numbers of gears. Finally, we would like you to know that we can offer even more customization due to our collaboration with a local artist, if you want a specific design or text you want on your bike, please inform about the possibilities in the enquiry form"

Visit http://ghanabamboobikes.org/en/ for more info
3. Wood-chopper
At first glance, this Wooden Motorbike looks like a life-size wood hog from a Mad Max style movie – but on closer inspections, it's just a toy! It's nevertheless impressive in terms of the concept and craftsmanship.
4. AERO Birch
Bike manufacturer AERO created this prototype bicycle frame from layers of birch to test wooden structural techniques that can be applied to architectural projects. The bicycle was conceived by Martino Hutz, Atanas Zhelev and Mariya Korolova whilst working on a wooden structural design for a London house, during their studies at the University of Applied Arts Vienna.
Lamellas – very thin layers of wood – form the frame, splaying at the points where the crank and peddles are fixed as well as below the seat. This design replaces conventional spring-based suspension systems, providing structural lightness, improved flexibility and greater strength.
"We are trying to find the best structural solution for this particular suspension system so that it doesn't flex too much," continued Zhelev. "It needs to provide a comfortable ride whilst being capable of absorbing big shocks."
According to project designer Martino Hutz, the bicycle combines structural functionality and aesthetic clarity. He describes it as a hybrid of Le Corbusier's mantra 'form follows function' and the Oscar Niemeyer quote 'form follows beauty'. Each length of birch wood was cut into 0.9-millimetre sheets, which were then glued together to form the final shape. The natural fibres of each wooden element were aligned to enhance overall strength as well as increased rigidity. The final prototype is scheduled to be manufactured this year and will be subject to a test for long-term stress build-up to prove its viability and longevity.
5. The Lagomorph
With the escalating price of fuel, people are choosing bicycles over motor vehicles for short distances. But, if uber-rich people think these bikes are not meant for the elite class, then they must have a look at some expensive bikes, like the Renovo r4 pursuit, Art-Veil bike or the beautiful Mahogany Bikes from Sanomagic. All these bikes are made of elegant wood and are perfect for an eco-friendly ride. The latest addition to the beautiful yet functional wooden bikes has come from Lagomorph design. The fully functional single-speed wooden bike boasts a frame made of special American Black Walnut. The bike features fine aluminum dropouts and fittings that are custom made by the company.
Lagomorph design company has used Phil Wood track hubs to ensure the optimal performance and a high-quality Chris King headset that makes the bike look more attractive. The drivetrain and pedals are from White industries, which is best in making the freewheel. And the bike uses Mavic rims and Diacomp calliper brakes along with titanium hardware. The chain is durable and rust free, as it is from the hollow pin Dura-ace. One also has the freedom to customize their own bike, as the company also sells frames, forks, headsets and stems individually for $3500, and if someone wants to experience this awesome bike ride, they will have to shed a whopping $6000.
6. Plywood Bike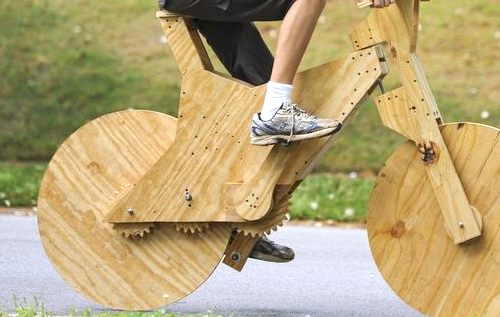 This Plywood Bike has 6 gears: 2 with 28 teeth, 2 with 72 and 2 with 21. It weighs 71 lbs. The total material cost is about $30 and the bike is now on its 6th set of gears after travelling about 20 miles.
Check out this bike in action in the video below!
7. Bough Bike
Dutch company, Bough Bikes, has created the first electric bicycle with an entirely wooden frame. The bike, which was designed by nature lover Jan Gunneweg, had its world premiere at the 2014 NYCxDesign Fair, where it received an overwhelmingly enthusiastic response. Aside from being aesthetically pleasing, it also environmentally friendly and its performance rivals that of most steel-framed bikes on the market.
Bough Bikes boast frames made of sustainable oak which has been harvested from responsibly managed forests in French Jura. The wood is treated with a protective oil finish that makes it resistant to all types of weather conditions. Unlike ordinary steel framed-bicycles, Bough bikes absorb more vibration, resulting in a smoother (as well as much quieter) ride, and are less prone to deterioration. They feature a small, electric motor, which can reach up to 15 mph and takes approximately three to six hours to fully charge. Riders can control the amount of pedal assist, making Bough bikes ideal for getting around city streets.
There are a few drawbacks, however. For one thing, Bough bikes are not exactly lightweight. Nor, as you can imagine, are they designed to scale mountainsides. While there is certainly room for further improvements, Bough Bikes is bringing some exciting innovations to the biking world.
8. Art You Can Ride
Two aspiring woodworkers build the ultimate wooden bike from Condemned trees. Bill Holloway and Mauro Hernandez pose with one of their hand-built wooden bicycles at their San Jose, Calif. shop on Tuesday, March 13, 2012. The pair run Masterworks Wood and Design. Utilizing their skills in traditional woodworking, they have created 'Art that you can ride' in their spare time.
9. Wooden Bicycle by Tino Sala
The master craftsman TINO SANA has given birth to the most exclusive and precious bike ever designed by artistic geniality. An original futuristic interpretation for connoisseurs, the bicycle combines art, motion and technology. Being the first one fully constructed in wood (aside from the movement mechanism and joints), it never fails to attract attention.
The bicycle is the result of careful research, making use of high frequency pressed layers of beech and ashwood together with hardwood inlays, thus guaranteeing strength and durability. The mechanical parts, selected on the basis of functionality and design, are in colour-coordinated aluminium or plain aluminium, and all Made in Italy – a country known worldwide for its bicycles, too.
Both painted with water-proof aniline dyes in five different colours (yellow, walnut, red, green and pink), the men's and women's models have six indexed ratios and their weight is around 20 kg.
Each TINO SANA wooden bike is numbered and authenticated with a certificate.
And the rest…
#10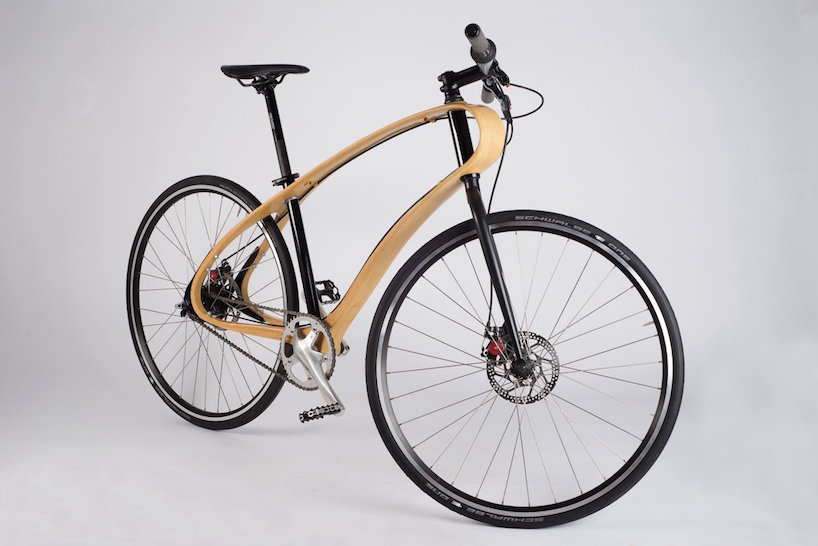 #11
#13
#14
#15
#16
#17