Available in 56
stunning

modern finishes LUX is Virtually

Maintenance Free
If you have been searching for a modern cladding product featuring longevity, ease of installation, versatility in colour and form, then we are confident you have found your solution in LUX Architectural Panel. LUX was created to satisfy our customers' desires and change the way metal cladding is used by the creative visionaries who generate our beautiful modern world.
LUX has embraced a contemporary and visionary approach to its products, which blends a hybrid of the old school mastery of metal craft with the innovative and emergent technologies of creative culture. This can be seen in everything we do, from our largest selection of finishes in the industry, that includes woodgrain, textured and metallics, to our unique Efficiency Series™ trims that make installation beyond fast.
LUX Advantages
Because of its advantages, certifications, and the simplicity of installation, LUX Architectural Panel has quickly become a leading force in the cladding industry.  LUX Architectural Panel is manufactured right here in Canada and is made from heavy gauge cold rolled galvanized steel. As manufacturers of metal products for over 30 years, LUX have invested our knowledge, experience and design innovation to create the high-quality product.
Think about LUX as a contemporary cladding option from some of the old masters of metal manufacturing!
FEATURES & BENEFITS
LUX offers great value and more high-quality features than any other product at its price point.
LUX ARchitectural Panels are manufactured in Canada which means you will not have to wait for weeks or months for your order to ship.
All LUX products are created out of a Galvalume Coated (ASTM A792) Steel, meaning you have the highest grade of corrosion-resistant coating on the market.
Many cladding products ship in preset lengths, however, LUX is unique in that it ships in custom lengths anywhere from 4' to 24'. This is both an environmental advantage and a cost saving one, as there is no wasted product.
There is no minimum order – LUX value all of our customers, from the homeowner doing a small renovation to the major builder constructing an office tower.
LUX Panel is extremely durable and maintenance-free. The high-quality PVDF finish means that LUX is incredibly easy to clean and will not fade.
LUX offers a 25-year finish warranty on all of our products, which is 10 years longer than other powder-coated aluminum extrusions or PVC products on the market.
LUX is made from steel so it is non-combustible and has a Class A Fire Rating. Steel also means it is impervious to insects and plant growth, such as moss.
LUX easily passes wind load tests, has a low expansion & contraction coefficient, and does not peel or warp.
LUX offers an extensive line of standard, two-piece, and custom flashings
LUX can also be used as a soffit; our venting options provide enough venting per square foot to accommodate building codes.
LUX has passed numerous government and standardized tests for fire, wind, salt spray, etc. There are currently 37 woodgrain, metallic, and textured colours, as well as 19 solid colours for you to choose from.
Above are digital renderings from the LUX Panel 3D CAD models demonstrating how the 4″ and 6″ profiles snap together.
Below is our LUX 2-piece J channel that covers the cut end of the panels with a cleanly finished architectural line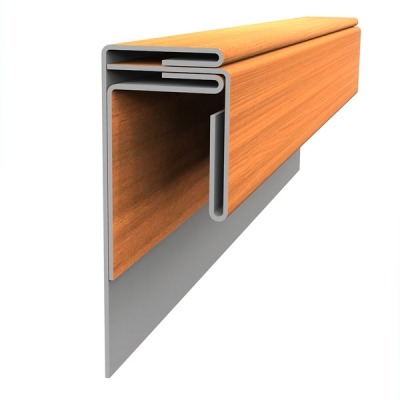 LUX comes in an ever-expanding selection of woodgrain, metallic, textured, and solid colour finishes, all with a 25-year finish warranty. LUX is manufactured in Canada which means you will not have to wait for weeks or months for your order to ship. LUX is a high-quality product you can count on as it was designed around reliable and proven technologies.
WOODGRAINS
KNOTTY WOODGRAINS

TEXTURES
METALLICS
LUXurious PVDF Paint Coating
LUX Architectural Panel uses only the premium paint coatings for our products. PVDF Coating (polyvinylidene flouride) which is commonly known by one of its trade names, KYNAR Coating, is one of the highest grades of steel finishing coatings available on the planet. LUX
PVDF is well known for its ability to maintain its finish and colour for extensive periods of time without chalking or fading.
Designed to withstand extreme weather and atmospheric conditions, PVDF creates a thick film barrier that is highly resistant even to solvents and acids. PVDF is the predominate choice when highest levels of purity and finish are required and it can be seen on some of the most important architectural projects around the globe such as The Petronas Towers and Taipei 101.
LUX is extremely durable in all weather and comes with a 25-Year Warranty!
Innovative design, uncomplicated finishing
Makes installation a breeze
LUX Architectural Panel is an extremely versatile product that has its origins in the metal siding and soffit industry. With the combination of innovation and historically known installation techniques, LUX Panel is simple to apply for any experienced professional. LUX was specifically designed to be uncomplicated, while also being innovative, allowing for a clean and beautiful installation that will maintain its appeal for years to come.
LUX Panel installs extremely easily and quickly. You can view are installation guide PDF by downloading from the link below.
A beautiful aesthetic combined with a simple installation!
Need Some Help?
Call

778-900-3881

to speak to one of our experts.