With so many
outdoor lighting

options

Family time

doesn't have to end at sunset
Enjoy your TimberTech or Azek Deck after dark with the subtle glow of low-voltage, energy-efficient LED TimberTech Deck Lighting. Available in five functional styles, Timbertech Deck Lighting creates ambience and a warm comforting glow to our Outdoor Living Space, meaning you can enjoy Deck Season all year round. TimberTech Deck Lighting is easy to install, and designed with both form and function in mind. Control your Outdoor Lighting with Timers and a Remote Dimmer, leaving you in complete control.
TimberTech LED Deck Lighting
Nothing creates an after-dark ambiance like the warm glow of perfectly balanced lighting. TimberTech's award-winning LED lighting casts a warm glow that lets you and your guests enjoy long evenings outdoors – and provides a soft light on steps and surrounding areas. All lighting products work with both TimberTech and AZEK railing and decking.
features & benefits
Advanced

Electronic Components

The integrated circuit, with thermal & voltage protection, ensures reliability
12
Samsung

LED Chips Are 97% Efficient

More chips allow for lower wattage per chip and less heat energy while maintaining the desired incandescence Raised Shock Absorbing Mount for LED Board. This new mount projects the components from vibrations and jarring which may occur in transit and installation.
HALT
Performance

Tested

Third party testing agency, Intertek, confirms reliability even under combinations of exaggerated environmental stress including extreme temperature (-300°F to + 200°F), rapid thermal transition, prolonged salt exposure, and vibration
Riser Lights
Add safety and a soft glow to your stairs with riser lights, warming the path up to your outdoor living space.
In Deck Lights
Mount in-deck lights to your deck's surface for an ambient glow. Place them around your deck's perimeter for outer glow and added safety.
Post Cap Lights
Illuminate the edge of your deck with the soft glow of post cap lights. Add them easily to any RadianceRail® or RadianceRail Express® 4″ and 5″ posts.
Under Rail Lights
Enjoy the subtle downlight of under-rail lights, hidden between balusters in the underside of your TimberTech® top rail.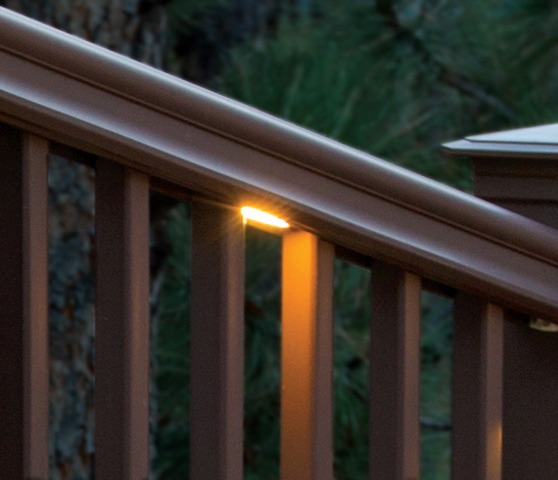 Accent Lights
Add a delicate downlight effect on posts or near stairs with accent lights. Place them where subtle lighting is needed to improve visibility.
Integrate your Deck Lighting with these
Other TimberTech Products
Need Some Help?
Call

778-900-3881

to speak to one of our experts.