NO MORE

SPINNING TIRES! with these

easy-to-install

textile tire chains
Snow Socks textile tire chains, or tire socks, that offer a safe and affordable solution for winter driving conditions. The technology lies in removing excess water between your tires and snow and increasing the contact surface without doing any damage to your vehicles wheels, tires or roads.
If you're looking for a simple, hassle-free alternative to chains and don't have winter tires for your vehicle? ISSE Snow Socks are the best alternative to chains if you don't have winter tires. Not only are Snow Socks easy to install, but their patented woven design gives them exceptional traction on ice and snow. You'll enjoy a smoother ride in extreme weather conditions with less noise than bulky chains. ISSE Snow Socks offer amazing traction. Your vehicle's tires grip the snow which allows you to get up to speed and moving safely.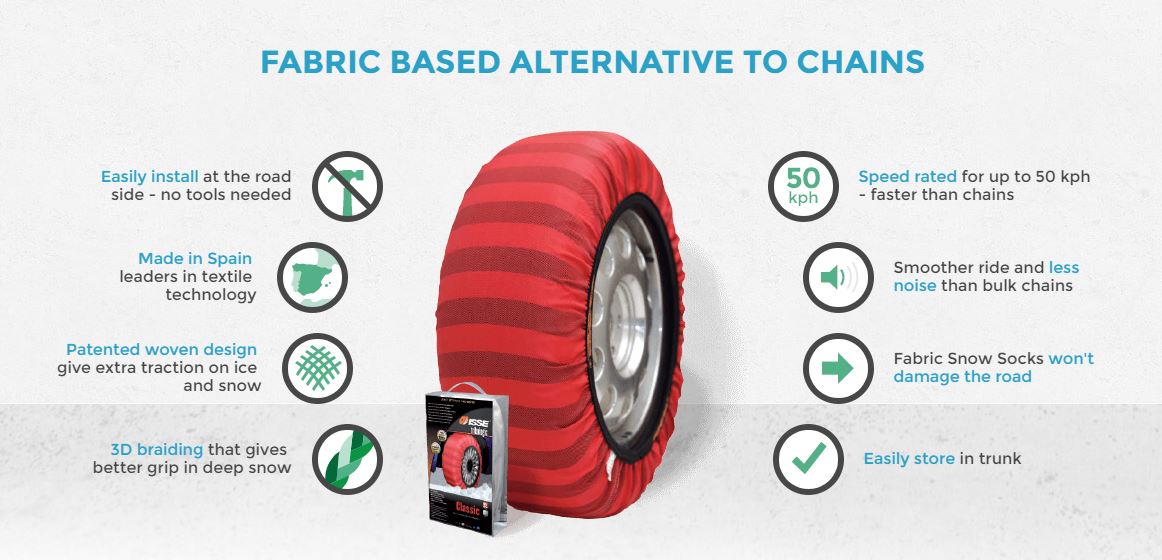 Which Snow Socks are right for me?
The Classic
The Classic is meant for an emergency situation. Use this product to get out of a jam if you are ever stuck in the snow (i.e on your driveway) or need to get up a steep hill with ice/snow. These socks can not be used on bare or wet asphalt and must be removed. Available for passenger cars, CUVs, SUVs and minivans.
*Suitable for everyday economy vehicles.
*Maximum speed: 50Km/hr on ice and snow. Not recommended for use on bare roads
THE SUPER
The Super was designed for the best grip on ice and snow and is intended for more frequent usage. If you're doing a lot of driving on snowy and icy roads (ie. you ski or snowboard frequently) the Super is right for you. The Super can also withstand more driving on bare asphalt if you suspect you may be switching from snowy and icy conditions back to asphalt for short durations, intermittently.
*Suitable for all vehicles and recommended for high-performance vehicles, modified vehicles, and sports cars with big brake callipers.
*Maximum speed: 50 Km/hr on ice and snow. 40Km/hr on bare roads.
Learn how easy it is to put on your Snow Socks
SNOW SOCKS FIT ALMOST ALL VEHICLES
FREQUENTLY ASKED QUESTIONS
HOW DO I LOCATE MY TIRE SIZE?
You can easily locate your tire size by looking at your tires themselves. There will be three sequences of numbers and a letter or two. For instance 225/50/18R. Your tire size should also be available by reading your owner's manual or 'searching' your vehicle model and year online.
NOW I KNOW MY TIRE SIZE, WHAT SIZE SNOW SOCKS DO I NEED?
See the chart above to find your tire size which will correspond to a particular snow sock size (i.e. 54, 58, 62, 66 etc.)
I CAN'T DECIDE BETWEEN THE CLASSIC AND THE SUPER - WHICH SHOULD I CHOOSE?
Choose 'The Classic' if you've got an 'everyday vehicle' and are only worried about using rarely for emergency situations. Choose 'The Super' if you may use the snow sock more often (but only sparingly on bare asphalt and never above 50 km/h) or if you have fancy brakes or a high-performance vehicle. When in doubt, buy the Super.
ARE SNOW SOCKS COMPARIBLE IN PERFORMANCE TO CHAINS?
HOW FAST CAN I GO?
Our suggested maximum speed rating is 50km/h.
DO SNOW SOCKS WORK WITH AWD VEHICLES?
Yes, Snow Socks work with AWD (All Wheel Drive) vehicles. Although you may obtain sufficient traction on the two tires which have the most power going to them (i.e. front or back), we recommend the use of two pairs of snow socks (for all four tires) for the best traction control.
ARE SNOW SOCKS APPROVED FOR USE IN BRITISH COLUMBIA?
HOW MANY SNOW SOCKS ARE INCLUDED IN A PACKAGE?
Each package contains two snow socks for two of your tires which are generally for the rear tires for rear wheel drive and front tires for front wheel drive. For 4WD (4 Wheel Drive) vehicles we recommend four socks (two pairs) for your front and rear tires.
HOW LONG DO SNOW SOCKS LAST?
This depends on usage. We recommend the 'The Classic' sock for infrequent use and 'The Super' for more frequent use. If used sparingly for emergency situations on snow/ice without exposed asphalt you can expect 'The Classic' socks to last for several seasons. Choose 'The Super' if you feel you will need the socks more often or if there will be any incidental contact with bare asphalt.
WHAT ARE SNOW SOCKS MADE OF?
The product is manufactured in Spain which is known for high-quality textiles. The product is made of a proprietary polyolefin textile designed for skid resistance in both ice and snow.
ARE SNOW SOCKS DIFFICULT TO PUT ON?
In general, the socks are easy to put on and should take less than 5 minutes to apply. We do recommend you 'practice' putting the sock on per our guidelines prior to use to ensure the fit is correct and that you are comfortable putting on when the time arises.
IS THERE ANYTHING ELSE I SHOULD KNOW ABOUT INSTALLATION?
Make sure your vehicle is parked and that the emergency brake is on. Do not install on slopes and ensure you are installing in a safe place where you are visible to other drivers. Wear very tight fitting gloves when putting them on or use the plastic gloves provided.
I AM A SENIOR - AM I GOING TO BE ABLE TO PUT SNOW SOCKS ON MY CAR?
This depends on your physical health, however, it is a general consensus that these socks are significantly easier to apply than chains and certainly better to have than not to provide additional safety in the event of unexpected snow and ice.
WHEN SHOULD I USE MY SNOW SOCKS?
Snow Socks are meant for emergency use on roads with snow or ice on them to allow your vehicle to gain better traction. These are not for use on bare or wet asphalt, where, if exposed, they might tear or become damaged. If you have the 'The Classic' Snow Sock, you should put them on to help you get out of your snow/ice covered road conditions, your driveway or parking lot/ramp etc. and keep them on until you get to the major routes where the roads may have been cleared. If the main roads are clear, you should pull aside and remove your Snow Socks.
With 'The Super' Snow Sock you will be able to drive on cleared roads for short periods of time. Therefore, if you suspect you will be back on a snow or icy side road or a steep hill soon after turning on to a clear road, you will be able to keep your Snow Socks on your tires for short periods of intermittent snow/ice and asphalt.
In any case, you should not exceed the maximum speed of 50 Km/hr and for best results, we recommend a speed of less than 40 Km/hr.
CAN I USE SNOW SOCKS WITH ALLOY RIMS?
Yes. The snow sock textile will not damage your rims.
HOW SHOULD I STORE MY SNOW SOCKS OUT OF SEASON?
As they may be wet and dirty, place them back in the bag they come in (or a garbage bag) temporarily and then hang them to dry when you get to your destination. Gloves are provided. When dry, make sure to put them back in the car!
ARE SNOW SOCKS MACHINE WASHABLE?
Yes, they are. Wash on a cold, delicate setting with a mild detergent. Hang to dry.
ARE SNOW SOCKS SUITABLE FOR COMMERCIAL VEHICLES?
Yes. 'The Super' Snow Socks come in larger sizes suitable for your commercial vehicle. We do, however, recommend commercial vehicles carry both the snow sock and regular metal chains. Although snow socks are approved in most areas for use on commercial vehicles, we have received some feedback that extremely steep hills may still require chains for large trucks. Use the Super Snow Stock for faster application for most areas and to gain a comfort level with where the snow socks work well for you and where you feel metal chains may work better.

Sign up for our
Newsletter
Get Member Only Deals!
Need Some Help?
Call

604-942-7282

to speak to one of our experts.