PREMIUM QUALITY

= BETTER PRODUCTIVITY Our RealTrim Plus is

hand selected

not once but twice
Your neighbours will be envious of the lasting quality of our Primed Fascia & Trim – and the lasting natural beauty it brings to your home. Manufactured to higher standards by Woodtone – North America's leading coatings specialists, our RealTrim PlusTM is the #1  solution for the gruelling and ever-changing climate of the Pacific Northwest.
Real Trim Plus Primed Fascia
Manufactured to a
higher standard
The old saying "you get what you pay for" has never been truer. In our industry, buying better quality materials makes sense when you look at the bigger picture, saving you time and money running back and forth from a job-site to replace off-grade material, not to mention the instant satisfaction your client will get from seeing superior quality material being installed on their home.
Our RealTrim PlusTM Primed Fascia is hand selected, not once, but twice, from premium grade lumber. It is then primed on all 6 sides using an enhanced ultra-low VOC Hybrid Alkyd Emulsion that is recognized for being both environmentally friendly and sustainable. This tight grained, hand selected lumber ensures long-term performance and is backed by a hefty 15-year substrate warranty.
Many of our competitors supply an inferior Primed Fascia product called PacificTrim™, which offers less than half the substrate warranty (7 years) and suffers from more obvious defects and flaws. This is primarily due to the use of a lower lumber substrate, grading, and coating process which compromise both the finished appearance and performance.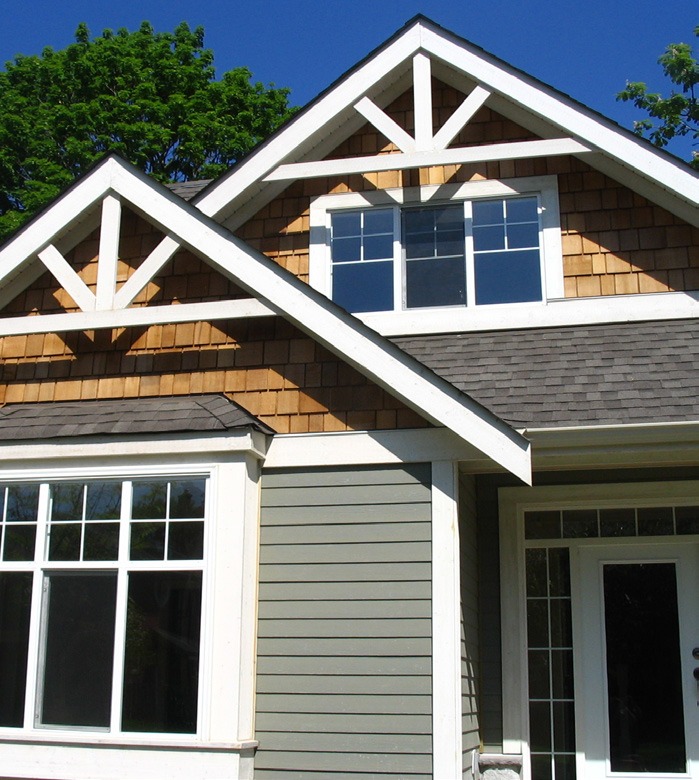 FEATURES & BENEFITS
Tight grained, hand selected wood for long-term performance
No nonsense 15-year substrate warranty against rot
Faster installation saving you time and labour costs
Adds the curb appeal of real wood
Various lengths and dimensions available
Flood coated on all 6 sides offering enhanced protection
Certified sustainable resource
IN-STOCK Profiles Available
1" x 2" (23/32"x1-1/2″)
1" x 3" (21/32″ x 2-1/2″)
1" x 4" (21/32″ x 3-3/8″)
1" x 6" (21/32″ x 5-3/8″)
1" x 8" (21/32″ x 7″)
1" x 10" (21/32″ x 9)
1" x 12" (21/32″ x 11″)
SPECIAL ORDER
5/4" x 2" (1-1/16" x 1-1/2″)
5/4" x 3" (1-1/16″ x 2-3/8″)
5/4" x 4" (1-1/16″ x 3-3/8″)
5/4" x 6" (1-1/16″ x 5-3/8″)
5/4" x 8" (1-1/16″ x 7″)
5/4" x 10" (1-1/16″ x 9″)
5/4" x 12" (1-1/16″ x 11″)
IN-STOCK Profiles Available
2" x 2" (1-7/16"x1-1/2″)
2" x 4" (1-7/16" x 3-3/8″)
2" x 6" (1-7/16" x 5-3/8″)
2" x 8" (1-7/16" x 7″)
2" x 10" (1-7/16" x 9″)
2" x 12" (1-7/16" x 11″)
All profiles available in 8-20′ lengths (some sizes lengths are special order)
Save time and money with our
Tinted Primer – Available by Special Order
We provide a tinted primer option allowing you to apply only one single topcoat finish on-site. With a tinted primer, you can either finish with a solid or semi-transparent coating depending on the desired look. Tinted primer is a fantastic way to save an enormous amount of time and resources without compromising a fantastic colour finish.
Estimated processing time required: 2-4 weeks get quote
Woodtone Factory Finish Options
PacificTrim™ ColorGuard™ top coating is the complete solution for machine applied exterior coating. The ColorGuard™ advantage is that you select the finished colour and we apply the optimal amount of paint in a controlled environment that is superior to job-site painting. Our factories run year-round and can keep the production of your single or multi-family homes rolling in any season. Touch up paint and tinted caulking available on request. Visit the ColorGuard™ page or contact us today for more details.
Estimated processing time required: 2-4 weeks get quote
Class A Fire Protection Coating (Approx 2-4 weeks)
We offer a Class A fire-rated coating designed for fascia, trim, siding, soffit, posts and other products.
Estimated processing time required: 2-4 weeks get quote
Shop more Finishing Materials
Need Some Help?
Call

778-900-3881

to speak to one of our experts.