Enjoy

the MoistureShield Peace of Mind With an Industry Leading

Lifetime Warranty
MoistureShield Decking products make the great outdoors even greater, by inspiring care-free living while making a bold aesthetic statement. Built to be tough yet beautiful, this durable composite decking outperforms and outclasses other composites, maintenance-heavy wood, or 'plastic looking' PVC decks.
MoistureShield proudly offers the best warranty in the industry – which they stand behind having never had a field failure. MoistureShield Decking is available in a variety of beautiful wood-toned colours that provide inviting warmth to your outdoor living spaces, along with a natural wood-like grain that feels soft underfoot.
proven performance and industry leading warranty
THE MOISTURESHIELD ADVANTAGE
PROVEN PERFORMANCE Over 23 years of making composite products we have not had any product recalls or field failures due to rot, decay or degradation.

INDUSTRY LEADING WARRANTY

 MoistureShield has the longest warranty in the market for a wood-plastic composite. Unlike competitor products, MoistureShield Composite Decking has a limited lifetime warranty which is fully transferable one time.

GREEN PRODUCT

 As a builder, you can earn up to a full L.E.E.D. point using MoistureShield Decking products. MoistureShield uses post-consumer content in manufacturing, diverting waste from landfills.

INSTALL ANYWHERE

 More applications are available to the builder because our product can be installed ON the ground, IN the ground, ON the water and even IN in the water

ECONOMICAL

 MoistureShield® is one of the most economical products in the marketplace for composites. This is not because products are made cheaply, but because of research and technology used in the manufacturing process. MoistureShield is protected against spikes in the petroleum and resin market helping avoid huge annual increases seen with competitors.
Moistureshield Decking Collections
moistureshield VANTAGE
With MoistureShield Vantage Decking you can enjoy the look and workability of wood, but with more water resistance, more durability and less maintenance. Uncapped reversible boards feature a natural wood-grain texture on both sides, allowing the use of either side for easier installation. In addition, the planks come with or without grooves to accommodate hidden fastening systems for a flawless finish.
FEATURES & benefits
Offered non-grooved or grooved for easy installation with hidden fasteners
Reversible board with natural wood-grain texture on both sides
Available in 8 natural wood tones
1×6 Decking available in 12′, 16′ or 20′ Grooved and Solid
get quote
MOISTURESHIELD VISION COLLECTION
MoistureShield® Vision® is the next generation of composite decking. This distinctive, contemporary design brings the hardwood look of a home's inside to the outside. With a modern, variegated appearance and guaranteed performance unmatched by any other decking products. MoistureShield Vision stands out while standing the test of time. The future of decking is here.
Available with or without our innovative CoolDeck® technology, which minimizes heat absorption and optimizes heat reflection for a more comfortable deck.
FEATURES
Lifetime structural warranty protected to the core
Limited Lifetime Fade & Stain Warranty
Offered non-grooved or grooved for easy installation with hidden fasteners
Available in 5 beautiful colors

vision® collection
SPANISH LEATHER
SMOKEY GRAY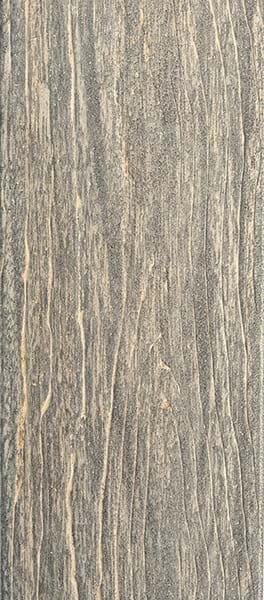 SANDSTONE
moistureshield infuse
MoistureShield® Infuse™ redefines composite decking with its perfect balance of true wood beauty and high-performance durability. Infuse™ is available with or without our innovative CoolDeck® technology, which minimizes heat absorption and optimizes heat reflection for a more comfortable deck.
Thanks to an exclusive Co-X™ manufacturing process, our Infuse boards also feature a realistic wood-grain finish, enriched colour variegation and an enhanced colour palette of deep earth tones, making them the perfect solution to infuse any back-yard with character and style.
FEATURES & benefits
Transferable Lifetime Warranty
25 Year Fade and Stain Warranty
1×6 Decking available in 12′, 16′ and 20′ Grooved and Solid
get quote
DECKVISION® DESIGN TOOL
MoistureShield® composite decking offers the right product for every unique outdoor living space. Give our deck design tool a try below to visualize MoistureShield in your backyard.
get a flawless finish with
MOISTURESHIELD HIDDEN FASTENERS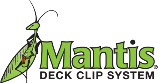 Sometimes the best part of a deck is what you don't see. MoistureShield® Mantis® Deck Clip System provides superior holding power, with a custom design that fits securely into the grooved profile of a MoistureShield board. MoistureShield® Deck Clips are durable, extending the life of your deck by elevating the boards above the joists to reduce structural rot and mould. They're even backed by a limited lifetime warranty against any loose deck boards.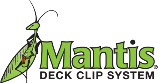 Key Features
Easy to Install, with pneumatic fasteners or screws
Concealed fasteners allows for an unblemished deck surface
Allows joists to completely dry out – reducing structural rot or mould
Powder coated high strength steel or stainless steel
STANDARD KIT Covers 50 square feet of decking. Includes starters, finishers and fasteners
CONTRACTOR PACK Covers 250 square feet of decking. Available with Screws or pneumatic collated fasteners.
The only composite decking rated for
Ground Contact and Saltwater
MoistureShield® composite products are manufactured with a patented process which creates a homogeneous mix of wood and plastic and produces a board that's completely resistant to moisture. This process allows MoistureShield Decking to be installed directly on the ground or in contact with saltwater without voiding the warranty. Whilst there can be slight colour variation when debris comes into contact with the product, the substrate is not compromised and this sets the product apart from every other composite decking product in the category. MoistureShield commercial warranty is a 20-year warranty.
Need Some Help?
Call

778-900-3881

to speak to one of our experts.